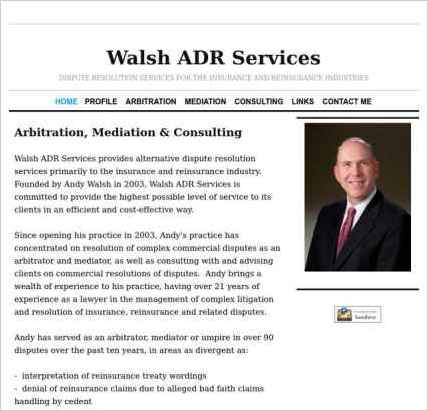 Sandvox was the choice for Andrew Walsh to build his website. He chose the "Distinction Blue" design for the site. People may want to visit the site if they are looking for Arbitration and Mediation disputes Insurance Reinsurance.
Sandvox features used for this site:Site Map, Contact Form
---
Describe your website.
My website is designed to promote my Alternative Dispute Resolution practice - arbitration and mediation of disputes among insurance companies, reinsurance companies, agents, brokers, third party administrators and insureds.
Who is the target audience for your website?
Law firms, in-house counsel and executives of insurance and reinsurance companies are the primary targets of this website. They are the decision makers when it comes to how to resolve their disputes short of litigation.
What is the advantage of your website over others?
I have over 30 years experience in the insurance and reinsurance industries, both as an attorney and business person. I provide excellent cost-efficient dispute resolution services. I have experience with workers' compensation, captives and rent-a-captives, professional liability and other commercial lines of property and casualty insurance.
Why did you use this Sandvox design?
I like the Distinction design because it is clean and professional.
---
---
www.SandvoxSites.com/2641