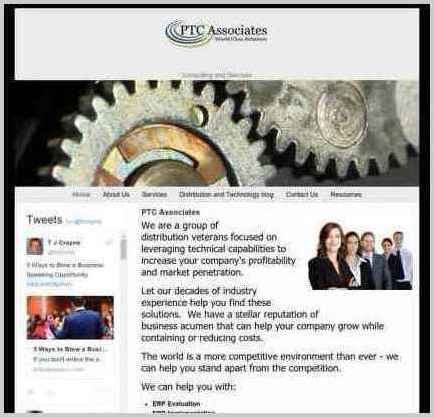 To build "PTC Associates," TJ Crayne chose Sandvox. He chose the "Clockwork Grey" design for the site. People may want to visit the site if they are looking for ERP Consulting.
Sandvox features used for this site:Blog, Site Map, Contact Form, Raw HTML Object
---
Describe your website.
Distribution businesses looking for consultants and experts specializing in high volume distributors, including Office Products, Jan San and Industrial. Emphasis on ERP systems, selection and usage, eCommerce, Mobile and Social Media.
Who is the target audience for your website?
Distributors with annual sales ranging from $5M to $500M
What is the advantage of your website over others?
PTC Associates has decades of distribution experience from an independent business standpoint, as well as the nation's largest Office Products wholesaler.
---
---
www.SandvoxSites.com/2652