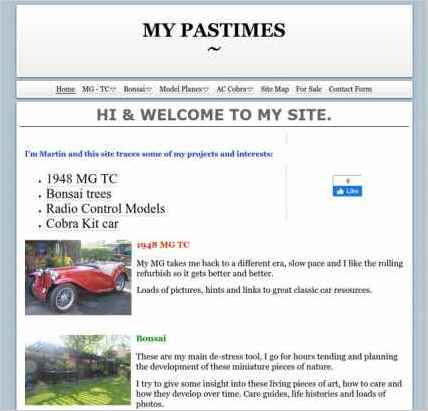 Sandvox was the choice for Martin Underhill to build his website. He chose the "Neo News" design for the site. People may want to visit the site if they are looking for V8, MG, Classic Car, Bonsai, Model, R/C, Plane.
Sandvox features used for this site:External Page, Photo Grid, Site Map, Contact Form, Code Injection, Google Integration
---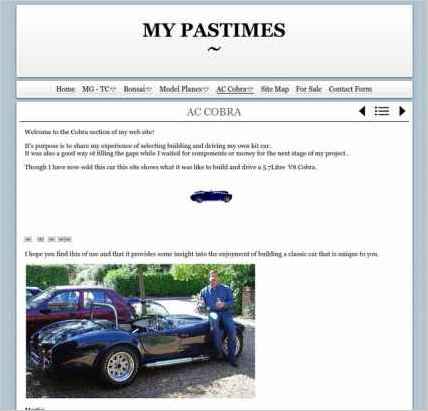 Describe your website.
Building an AC Cobra, photos of V8, restoring a classic car, MG TC, 1948 MG, model plane, learning radio control flying, care and development of Bonsai.
Who is the target audience for your website?
Hobbyists
Petrol Heads
Car lovers
All ages
What is the advantage of your website over others?
Loads of pictures
Easy to read and understand
Lots of links to other sources of information
Tell us a story about this website.
I built my AC Cobra V8-powered car and the site has the full build record. After many years agonising, I decided to sell the car and listed it on my website. An interested buyer contacted me and the car was sold. I'm happy it is in loving hands and there were no other fees or hassle.
Why did you use this Sandvox design?
Simple, minimal clutter on screen.
---
---
www.SandvoxSites.com/2632