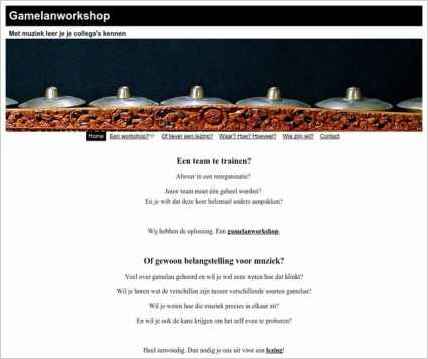 Pieter Duimelaar used Sandvox to build this website. He chose the "Black & White" design for the site. People may want to visit the site if they are looking for Team building activities.
Sandvox features used for this site:Contact Form
---
Describe your website.
With this site (Dutch language only) I offer workshops of Balinese gamelan as a team-building activity. Gamelan playing is very much a co-operative activity. By learning to play these instruments, a group of co-workers will get to know each other better and will work better together in professional surroundings. And, of course, a workshop is fun!
Who is the target audience for your website?
These workshops are meant for organizations in transition, companies as well as government organizations and NGOs.
What is the advantage of your website over others?
Many companies offer team building activities. As far as I know, no one else is using Balinese gamelan for this purpose.
Why did you use this Sandvox design?
This design is very clear, very readable. It has no frills that lead attention away from the main message.
---
---
www.SandvoxSites.com/2771