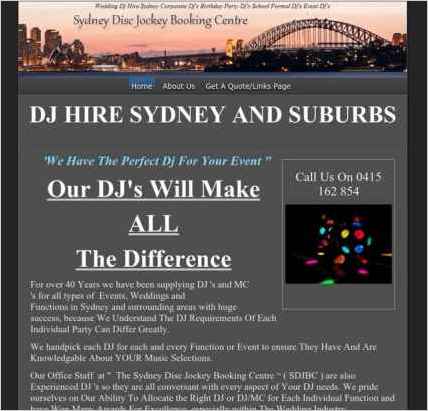 John G. Shepherd used Sandvox to build this website for Sydney Disc Jockey Booking Centre. He chose the "Smooth Dark" design for the site. People may want to visit the site if they are looking for DJ hire Sydney, Mobile DJ hire, Party DJ, Wedding DJ.
Sandvox features used for this site:External Page, Contact Form, Other Objects, Google Integration
Visit DJ Hire Sydney and Suburbs »
---
Describe your website.
This site is to promote our DJ Hire Sydney and Suburbs service. For over 40 years, we have been supplying DJ s and MCs for all types of events and functions in the Sydney metropolitan area.
Who is the target audience for your website?
We are promoting our services to people of all types and ages, for weddings, or where a DJ or an MC is required.
We also cater for venues, hotels, and conference centres etc.
What is the advantage of your website over others?
Our office staff at "The Sydney Disc Jockey Booking Centre " are also experienced DJs, so they are all conversant with every aspect of your DJ needs. We pride ourselves on our ability to allocate the right DJ or DJ/MC for each individual function and have won many awards for excellence, especially within the wedding Industry.
Why did you use this Sandvox design?
We used it on another site we made which is associated with this one and wanted to keep them in similar formats.
What techniques did you use to build this website?
I am a novice at website design and as such am only just starting. The ease [of use] and aids which Sandvox supplies helped heaps, but I am still wanting to learn more.
---
---
www.SandvoxSites.com/2759