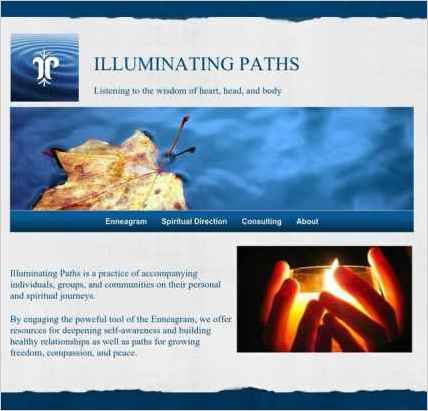 Sandvox was the choice for Christopher T. Copeland to build his website. He chose the "Outside the Lines Blue" design for the site. People may want to visit the site if they are looking for Spiritual Direction, Wedding Officiant Durham, Wedding Officiant.
Sandvox features used for this site:Site Map, Google Integration
---
Describe your website.
Illuminating Paths is a practice that provides officiant services for weddings, offers spiritual direction for individuals and groups, leads retreats & workshops, and provides consulting for churches, seminaries, and non-profits. Our hope is to share more about who we are and what we do.
Who is the target audience for your website?
Raleigh, Durham, Chapel Hill, Research Triangle, North Carolina. Spiritual seekers, couples getting married, couples planning a wedding, someone seeking meaning in life, ministers, clergy.
Tell us a story about this website.
For 5 years, I used a content management system to maintain my website and it costs me significant money to create a site using that system. When I decided to update my website, I downloaded Sandvox to see if I could create a beautiful website without having to pay designers and coders for the CMS. I was extremely pleased with the ease of using Sandvox, and I created a beautiful site that I will continue to update and expand with ease.
Why did you use this Sandvox design?
I liked the creativity of the design I chose, which allowed me to indicate to my audience that the work I do is marked by creative energy.
---
---
www.SandvoxSites.com/2746