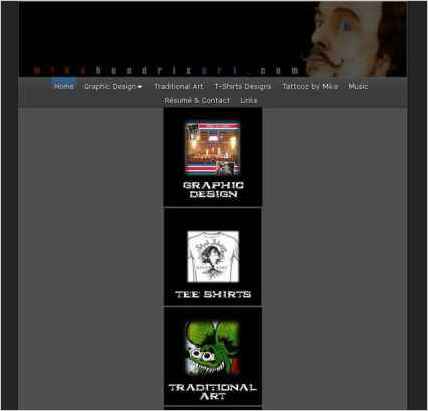 Mike Hendrix used Sandvox to build this website. He chose the "Smooth Dark" design for the site.
MikeHendrixArt & Graphic Specialist
(Website is no longer listed here.)
Sandvox features used for this site:External Page, Photo Grid, Contact Form, YouTube, QuickTime Audio/Video, Other Objects, Code Injection
Visit MikeHendrixArt & Graphic Specialist »
---
Describe your website.
MikeHendrixArt is a self promotional website to help me successfully land a full time job. On top of that it gives me an outlet to sell my art.
Who is the target audience for your website?
What is the advantage of your website over others?
I believe I have a wide range of skills and experience to offer.
Tell us a story about this website.
My website has gathered attention in a short time. It shows my good natured personality while expressing my desire to do a quality job.
Why did you use this Sandvox design?
It fit my personality and expression.
What techniques did you use to build this website?
Not sure what to say...I tried my best and am pleased with the results.
---
---
www.SandvoxSites.com/2705