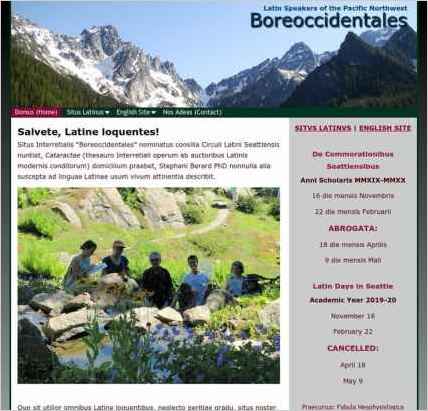 Erica M. Swanson used Sandvox to build this website. She chose the "Serengeti" design for the site. People may want to visit the site if they are looking for Latin language club, spoken Latin seminar.
Sandvox features used for this site:Blog, External Page, Photo Grid, Custom Collection Index, Site Map, Amazon.com, YouTube, RSS Feed Object, Other Objects, Editing HTML of text, Raw HTML Object, Google Integration
--- Describe your website.
The Boreoccidentales web site supports and promotes the events and activities of the Seattle Latin-Speaking Club (Circulus Latinus Seattlensis), such as Latin Days in Seattle and the Annual Spoken-Latin Seminar (Conventiculum Vasintoniense and Septimana Californiana). The site also provides Latin language resources to the students of Dr. Stephen A. Berard, Professor of World Languages at Wenatchee Valley College, and houses Cataracta, an online journal with works by modern Latin authors. Most web pages are available in both the Latin and English languages.
Who is the target audience for your website?
Students and others who enjoy speaking Latin and who live within driving distance of the Seattle area are invited to join the quarterly gatherings for Latin conversation. We use our spoken Latin not just sitting around a table at lunch or drinking coffee or dining, but we also converse in Latin in a variety of places and engage in a variety of activities, since, just as in our annual spoken-Latin seminars, we find that most people can learn any language better and more quickly and more deeply if they practice the target language while doing things. So on our "Latin Days" we have visited museum exhibits, a public zoo and even toured a farm. We also marveled in Latin at a museum of science fiction, have gone for beautiful walks in public parks and done many other things, continually speaking Latin. We often prepare appropriate vocabulary lists before engaging in completely new activities. We are also looking for modern Latin authors. Inclusion in the Cataracta online journal is open to anyone, world-wide!
Why did you use this Sandvox design?
I finally chose Serengeti because the placement of the links on the menu bar worked best with my site, which has a lot of submenus because it has two sites in one: Latin and English. In fact, I created sidebar menus as well for easier navigation. (Someday I'll learn to create HTML sidebar menus so they'll look better.) I also liked the colors (they went with my photo for the header) and the options for callouts (borders, colored background). Serengeti looks professional but not sterile.
What techniques did you use to build this website?
Because we are encouraging email, I decided to add the Datalogica webmail w/ captcha form. This was a challenge, given my limited knowledge of HTML, but I'm patient and I got great support from Datalogica.
It was really fun to incorporate a YouTube feature!
I am now researching how to create and sell ebooks through the site. Stay tuned!
---
---
www.SandvoxSites.com/2690