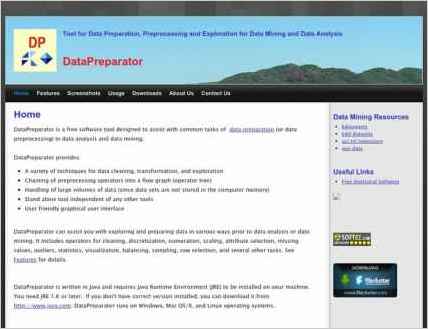 Sandvox was the choice for Bozena Stewart to build her website for DataPreparator Software. She chose the "Blueball Qubit Blue" design for the site. People may want to visit the site if they are looking for data mining software.
Sandvox features used for this site:External Page, Site Map, Contact Form, Other Objects, Editing HTML of text, Raw HTML Object, Code Injection, Google Integration
--- Describe your website.
This website describes a software tool for data preparation for data mining.
To learn about DataPreparator:
Find out the available functionality in Features.
View sample screenshots in Screenshots.
See some of the tasks for which DataPreparator can be used in Usage.
Download a free demo version from Downloads.
Purchase DataPreparator from How To Buy.
Who is the target audience for your website?
This website could be of interest to data mining practitioners, data analysts, statisticians, researchers, students, and other professionals involved in analysing data.
What is the advantage of your website over others?
Data preparation is an essential but often neglected part of data mining process. There are very few tools available to assist with the tasks of data preparation.
DataPreparator is an affordable tool that enables the users to perform common data preparation tasks interactively using a graphical user interface.
Why did you use this Sandvox design?
I have purchased a Blueball Qubit design because I wanted a 2-column design with a wider text area.
---
---
www.SandvoxSites.com/826