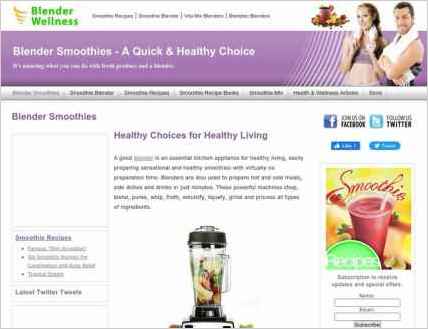 To build "Blender Wellness," Steve Heap chose Sandvox. He chose the "VueThemes - Blender Wellness" design for the site. People may want to visit the site if they are looking for Industrial Blender for Health and Wellness.
Sandvox features used for this site:Blog, External Page, Photo Grid, Custom Collection Index, Site Map, Contact Form, Amazon.com, RSS Feed Object, Other Objects, Editing HTML of text, Raw HTML Object, Code Injection, Google Integration
---
Describe your website.
This website is designed to help users understand how a good blender is an essential kitchen appliance for healthy living, easily preparing sensational and healthy smoothies with virtually no preparation time. Blenders are also used to prepare hot and cold meals, side dishes and drinks in just minutes. These powerful machines chop, blend, puree, whip, froth, emulsify, liquefy, grind and process all types of ingredients.
Who is the target audience for your website?
Individuals interested in living a healthy lifestyle focused on health and wellness.
What is the advantage of your website over others?
Users will likely find my site to be simpler to navigate and explore content.
Why did you use this Sandvox design?
The design chosen for this site allowed for a clean, professional look in my desired color scheme and provides flexibility for placing content.
What techniques did you use to build this website?
Utilizing the image grid layout I was able to create a store-like section for marketing affiliate content.
---
---
www.SandvoxSites.com/789