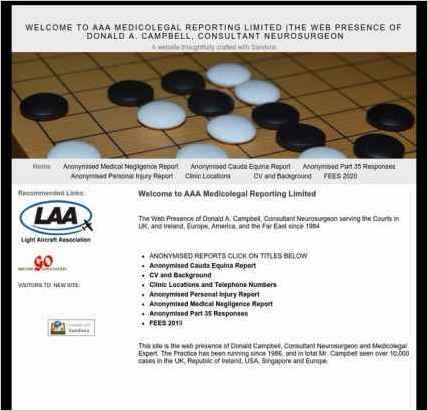 Donald Campbell used Sandvox to build this website. He chose the "Clockwork Grey" design for the site. People may want to visit the site if they are looking for Medical Reports.
Sandvox features used for this site:External Page, Site Map, Contact Form, Editing HTML of text, Google Integration
Visit AAA Medicolegal Reporting »
---
Who is the target audience for your website?
ATTORNEYS LAYERS SOLICITORS BARRISTERS LEGAL DEPARTMENTS OF INSURANCE COMPANIES
What is the advantage of your website over others?
THis has been designed by me; it includes what many of my clients tell me they are looking for and gives direct contact details. It also shows clocks I have built!!
Why did you use this Sandvox design?
It looks to have the right balance between integrity and advertisement for the casual surfer/searcher to stay and want to explore
What techniques did you use to build this website?
page counter integrated video clip on home page
---
---
www.SandvoxSites.com/1013