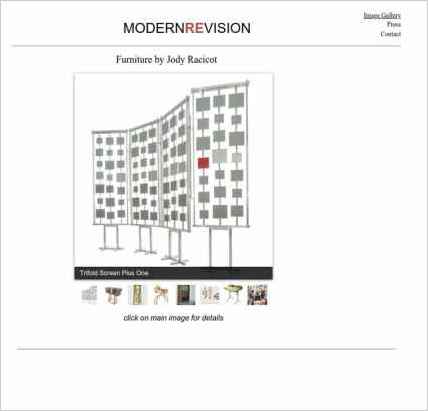 Jody Racicot used Sandvox to build this website. He chose the "Minimalist" design for the site. People may want to visit the site if they are looking for designer furniture.
Sandvox features used for this site:Site Map, Contact Form, Raw HTML Object
Visit Modern Revision Furniture Design »
--- Describe your website.
I design and build one of a kind modern furniture combining new and recycled materials. Modernrevision.com is the portal for showcasing my present and past furniture designs. Customers can browse and purchase from a selection of innovative designs on display.
Who is the target audience for your website?
Professional interior designers, decorators and those seeking leading edge furnishings for their own homes. A large portion of my visitors are big city condo owners aged 30 to 60.
What is the advantage of your website over others?
My designs can't be found anywhere else. Customers are assured exclusivity when purchasing a piece of furniture from Modernrevision. When incorporating recycled or salvaged material into my designs it is important that the line between new and old is indistinguishable. You won't find unfinished barn boards here.
Tell us a story about this website.
There is a grant available locally for small businesses to establish a web presence. I was told that I didn't qualify for the grant because my website had "clearly been done by a professional already". Kudos to Sandvox!
Why did you use this Sandvox design?
I'm using Minty Fresh these days. The color and style compliment the furniture designs displayed on my site.
What techniques did you use to build this website?
A great tool I use is the free counter available from statcounter.com. Tracking every click is easily done by adding a raw HTML pagelet into each page of your site. I chose the "invisible" counter so that the look of my site wouldn't change. Statcounter provides the code to be injected when you sign up. It's absolutely free and very easy to do. The depth of stats is truly impressive and very useful to help figure out what kind of visits you're getting and how to improve your site.
---
---
www.SandvoxSites.com/989