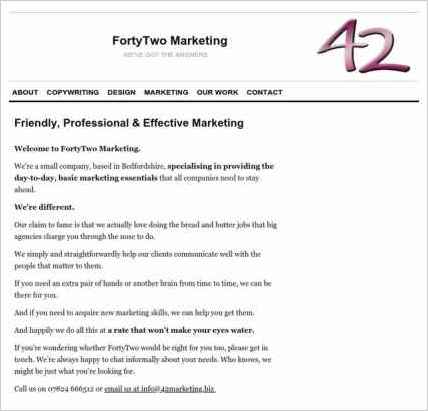 Ann Pawley used Sandvox to build this website for FortyTwo Marketing Ltd.. She chose the "Distinction" design for the site. People may want to visit the site if they are looking for graphic design, copywriting and marketing services.
Sandvox features used for this site:Photo Grid, Custom Collection Index, Contact Form, Other Objects
---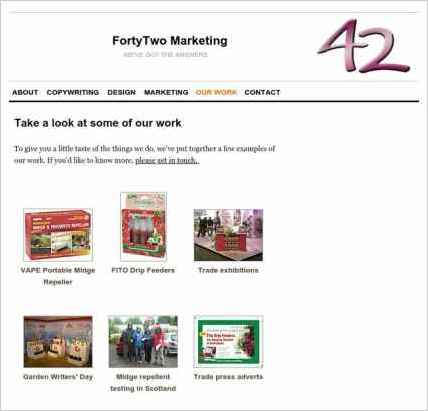 Describe your website.
Our business specialises in providing the day-to-day, basic marketing essentials that all companies need to stay ahead, through copywriting, graphic design and marketing services.
We put words to work in business to business communications, take concept work, existing artwork and make adaptions at a very cost effective rate and we provide marketing help when you need it with our various marketing services.
Who is the target audience for your website?
Our clients tend to be small and growing businesses in the UK who need good quality, cost effective and flexible help with their artwork, copywriting and marketing.
What is the advantage of your website over others?
We're different to many companies because we love doing the types of work that bigger outfits aren't geared up to do well or at a sensible price.
With FortyTwo, you get top quality service at a very competitive rate. We're nice to deal with too.
Tell us a story about this website.
We're often asked about the name of our company. Of course it's a homage to the great Douglas Adams. It's a great way to spot the people who know his work and those yet to have the pleasure.
Why did you use this Sandvox design?
We chose this design because it's clean and modern looking, without being fancy or frilly. It seems to reflect the values we bring to our business; integrity, honesty, style, professionalism.
What techniques did you use to build this website?
We didn't really go to town with the web building techniques for this site, but it's going to keep growing and we'll keep on adding content as we go too, so look out for new stuff coming along.
---
---
www.SandvoxSites.com/983