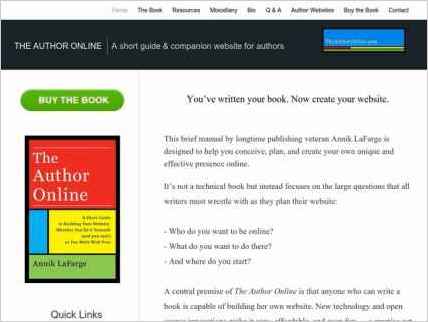 Sandvox was the choice for Rafael Cortes to build his website. He chose the "Lithium" design for the site. People may want to visit the site if they are looking for building an author website.
Sandvox features used for this site:Blog, Contact Form, RSS Feed Object, Other Objects, Raw HTML Object, Google Integration
--- Describe your website.
My website is designed to help authors conceive and create their own presence online. I have a section with many examples of author websites; lots of tools and resources; and content from the companion book, The Author Online: a sample chapter, Q&A, and more.
Who is the target audience for your website?
book authors -- fiction and non-fiction, adult and children's -- journalists and others who write for a living.
What is the advantage of your website over others?
I'm a 25-year veteran of top houses in the book publishing business (Random House, Simon & Schuster) and have expertise in marketing, editorial, digital publishing and website development for authors. Since I left publishing to start my own business I've worked with some of the bestselling authors in the world on their websites and digital strategy.
Why did you use this Sandvox design?
It has a large banner at the top and lots of white space. It's simple, elegant, and helped me get the look I wanted.
---
---
www.SandvoxSites.com/892