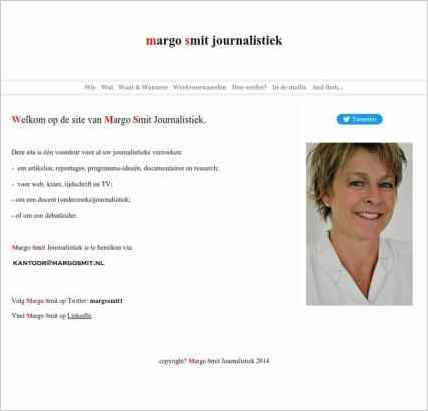 Sandvox was the choice for Marcella Smit to build her website for Margo Smit Journalistiek. She chose the "Clean Sheets" design for the site. People may want to visit the site if they are looking for journalistic productions.
Sandvox features used for this site:External Page, Photo Grid, Site Map, Contact Form, QuickTime Audio/Video, Other Objects, Editing HTML of text
Visit Margo Smit Journalistiek »
---
She entered her answers in Dutch.
Describe your website.
My site welcomes (welkom) companies and people who are looking for an investigative reporter and journalist/verslaggever (onderzoeksjournalist) with lots of work experience (werkgeschiedenis) in making documentaries (documentaires), writing (schrijven), teaching (lesgeven) and advice (advies). you can watch my documentaries, films, stories.
Who is the target audience for your website?
My site is interesting to people who need an experienced journalist, whether in writing or audio-visual.
Why did you use this Sandvox design?
I chose the clean sheets design, for it reflects what I would like my company to be: clear, clean, transparent, easy to get acquainted with. It has a light touch, and a classic look due to the font (copperplate) I picked, expressing that I am a classic, no frills type of journalist, dependable, straightforward.
What techniques did you use to build this website?
I am still experimenting with it, so no cool stories here yet. But for someone who was a total digital kluts until recently, I find myself doing pretty sophisticated things even if it may seem simple to the average 12-year old.
---
---
www.SandvoxSites.com/505