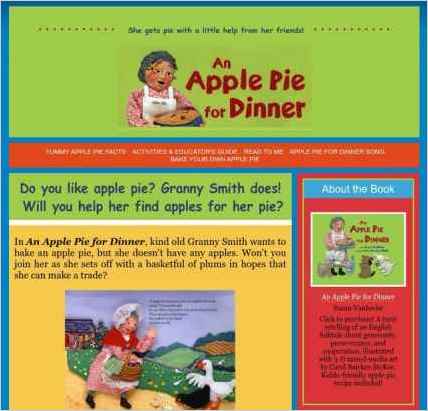 To build "An Apple Pie For Dinner," Sue VanHecke chose Sandvox. She chose the "Simply Colorful" design for the site. People may want to visit the site if they are looking for children's books.
Sandvox features used for this site:Photo Grid, Contact Form, QuickTime Audio/Video, Other Objects, Code Injection, Google Integration
Visit An Apple Pie For Dinner »
---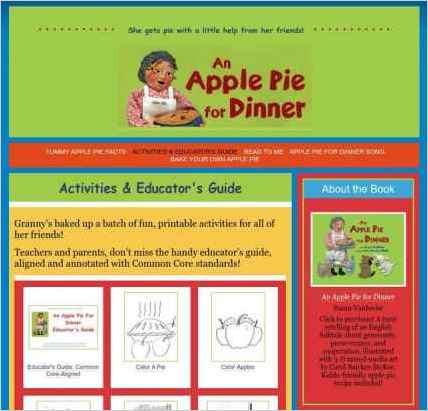 Describe your website.
At my website, you'll learn more about the children's book An Apple Pie For Dinner, plus find fun activities, yummy apple pie facts, a recipe to bake your own apple pie, an Apple Pie For Dinner song, and more.
Who is the target audience for your website?
My website will appeal to children ages 3-8 and the parents, grandparents and teachers who love and care for them. Here they'll learn more about the book An Apple Pie For Dinner and find resources to learn and teach about all things apples and pie.
What is the advantage of your website over others?
My website offers a variety of resources for educators and parents to teach and engage children on the subjects of apples, pie, and folktales, plus the concepts of generosity, perseverance and cooperation. These resources include fun facts and activities, a host of links, a handy discussion guide, and more.
Why did you use this Sandvox design?
I was delighted to find that one of the designs that came with Sandvox used exactly the same color scheme as the cover of my book, An Apple Pie For Dinner. It was the perfect choice!
What techniques did you use to build this website?
I made a custom clickable banner that incorporated an image from my book's cover. I love how it looks.
---
---
www.SandvoxSites.com/471