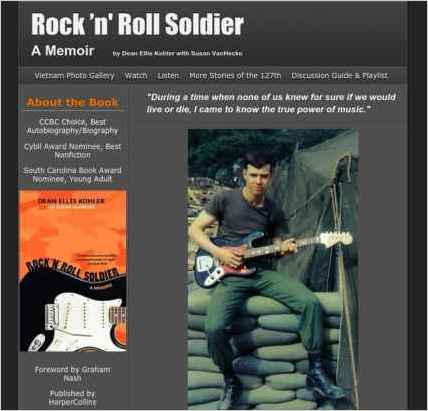 Sandvox was the choice for Sue VanHecke to build her website. She chose the "Smooth Dark" design for the site. People may want to visit the site if they are looking for books for teens.
Sandvox features used for this site:Blog, Photo Grid, Contact Form, Amazon.com, Code Injection, Google Integration
Visit Rock 'N' Roll Soldier: A Website »
---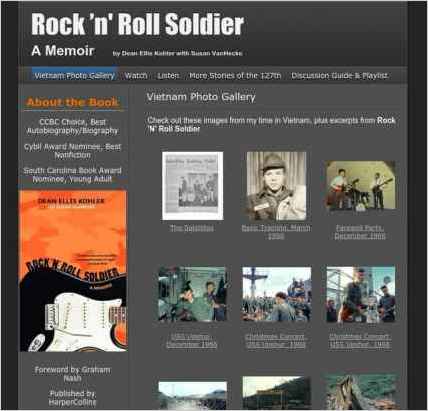 Describe your website.
My website provides information about teen guitarist-turned-soldier Dean Ellis Kohler's experiences during the Vietnam War as part of an unauthorized touring rock band, captured in his book Rock 'N' Roll Soldier: A Memoir. Many aspects of Dean's fascinating story did not make it into his book due to space limitations. At the website, readers can explore Dean's Vietnam photo gallery, watch his film footage and listen to audio from Vietnam, and read more stories of the 127th Army MP Company, Dean's wartime unit. Educators and book club groups will also appreciate the handy discussion guide.
Who is the target audience for your website?
The site appeals to teens, young adults, active duty military, veterans, and baby boomers, due to its subject matter of a teen soldier coming-of-age during the Vietnam War. Educators will find the site – and the book – a terrific resource for the study of the Vietnam War.
What is the advantage of your website over others?
With its extensive and personal photo collection, regularly updated weblog, thought-provoking discussion guide, text excerpts, and more, the Rock 'N' Roll Soldier website gives readers of the book a more thorough and comprehensive understanding of the soldier's experience in Vietnam.
Why did you use this Sandvox design?
I considered several of the Sandvox-supplied designs for this website, but ultimately chose Smooth Dark. It provides a strong yet unobtrusive backdrop for the site's multi-media content.
What techniques did you use to build this website?
I enlarged the type size of the subheads using code injection.
---
---
www.SandvoxSites.com/472