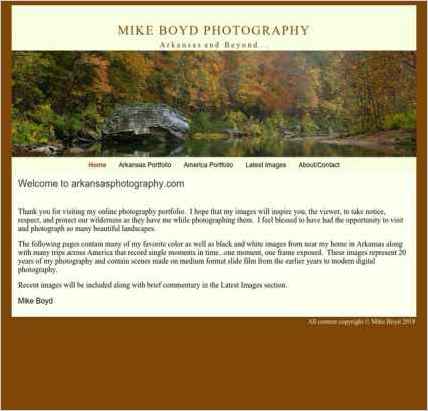 Mike Boyd used Sandvox to build this website. He chose the "Clockwork Brown" design for the site. People may want to visit the site if they are looking for Arkansas photography.
Sandvox features used for this site:Photo Grid, Contact Form, Editing HTML of text, Code Injection, Google Integration
Visit Mike Boyd Fine Art Landscape Photography »
--- Describe your website.
My website is an online portfolio of landscape and scenic photographs that I have made from near my home in Arkansas as well as many locations from across America. I hope to continue to add and share my images with others on the web and update the site with information about nature photography in Arkansas.
Who is the target audience for your website?
I hope that my website will be inspiring to anyone who enjoys being outdoors in the wilderness. As I continue to add information, my goal is that this website will be useful for anyone interested in photographing natural scenes in Arkansas.
Tell us a story about this website.
In the past, for my old website, I used a local web design company. It had always been difficult and expensive making any updates to that site. Eventually, they went out of business and I had no way to continue with my old website. Now, thanks to Sandvox, I am able to have complete control of my own website. Having this control has helped ignite a spark of creativity in me to produce new images, knowing that I can easily add and share them with others on this new website.
Why did you use this Sandvox design?
I chose the Smooth Dark design because I felt that it compliments my images well, allowing them to jump right off the screen. Also, this design is very different from the look of my old website making the site fresh and new.
---
---
www.SandvoxSites.com/455