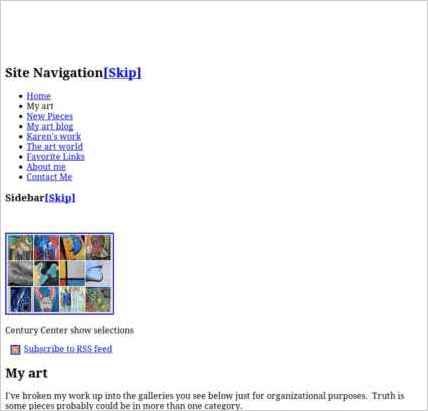 Sandvox was the choice for Chris Beacham to build his website. He chose the "Night Breeze" design for the site. People may want to visit the site if they are looking for art, art events in Carrboro and Chapel Hill, painting, art exhib.
Sandvox features used for this site:Blog, External Page, Photo Grid, Custom Collection Index, Site Map, Contact Form, RSS Feed Object, Editing HTML of text, Raw HTML Object, Code Injection
Visit ChrisBeachamPaints -- My Journey into Art »
---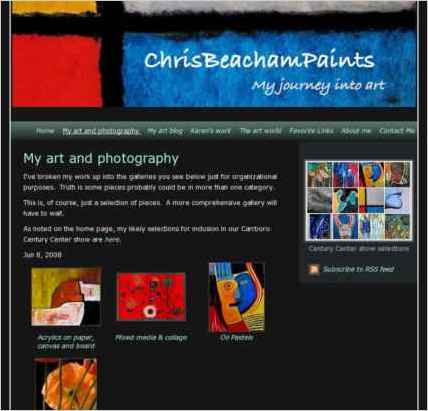 Describe your website.
My website describes my personal journey into art. It presents my art and photography including acrylics, collages, oil pastels, and mixed media expression as well as the work of my partner Karen Stone. I also focus on the art world with a particularly emphasis on the art community of Carrboro and Chapel Hill. My goals are to present my work but also to explain how art changed my life.
Who is the target audience for your website?
I want to reach out to budding artists particularly those that took circuitous and unexpected paths. I also want people to see and understand my journey and how art has changed me and how my art has changed. Lastly I am interested in the art world in the Carrboro and Chapel Hill areas of North Carolina where I live.
I hope my site is of interest and inspiration to aspiring artists particularly those who start their art careers in midlife.
Tell us a story about this website.
My site has helped me to reconnect with people I grew up with, people I haven't seen in decades. I have found that they have had similar journeys, struggles and joys.
Why did you use this Sandvox design?
I chose the Night Breeze design because I liked the dramatic look but also because it works with the modifications I wanted such as my logo that replaced the default graphic.
What techniques did you use to build this website?
I built a custom header for the Night Breeze design that integrated part of one of my paintings. I used the open source Gimp, an alternative to PhotoShop.
---
---
www.SandvoxSites.com/298