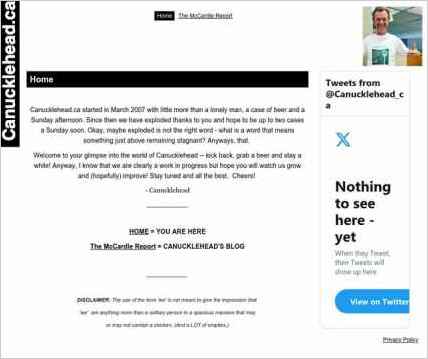 Canucklehead used Sandvox to build this website. He chose the "Black & White" design for the site. People may want to visit the site if they are looking for Canucklehead, funny pictures, jokes, Canada, beer, funny lists,.
Sandvox features used for this site:Blog, Podcast, Photo Grid, Custom Collection Index, Site Map, Contact Form, Amazon.com, YouTube, QuickTime Audio/Video, RSS Feed Object, Other Objects, Editing HTML of text, Raw HTML Object, Code Injection, Google Integration
---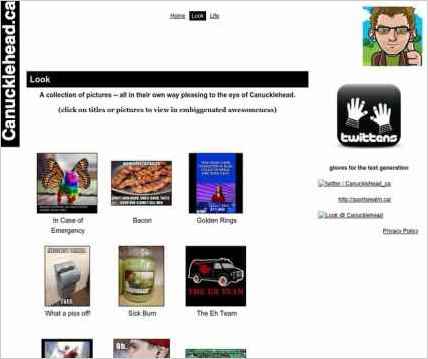 Describe your website.
Canucklehead.ca is purely a hobby site. It's a collection of jokes, funny pictures, lists, family photo album and blog - all in one little package.
Who is the target audience for your website?
Well, I don't know about target audience but 90% of my visitors come from StumbleUpon, looking for funny pictures and jokes. Of course, my blog has developed a small following as well. In short, I would say the drunk and/or mentally handicapped.
What is the advantage of your website over others?
I'm funnier, faster, Canadian and likely drunk. My areas of expertise range from overthrowing dictatorships to interpretive dance. It's one-stop shopping all the way.
Tell us a story about this website.
Well, I have been able to make a little money but my most rewarding experience to date has been a stranger who left me a comment that stated that he was considering suicide and after having a laugh on my site he reconsidered. We've kept in touch a little since. (Not lately though - gulp!)
Why did you use this Sandvox design?
I switched all the time in the beginning but decided to stick with the simple black and white one because it was clean. Now I stick with it so people know its the same site mostly. Its all good.
What techniques did you use to build this website?
My only real major find was the custom collection index - I was able to really get the site the way I wanted it then and got lots of positive feedback as a result.
---
---
www.SandvoxSites.com/296