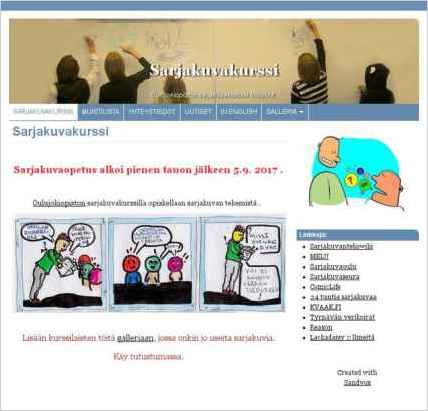 Esa Holopainen used Sandvox to build this website. He chose the "Earth & Sky Blue" design for the site. People may want to visit the site if they are looking for comics, cartoons, illustration, comics course.
Sandvox features used for this site:Blog, Photo Grid, Contact Form, QuickTime Audio/Video, Code Injection
Visit Sarjakuvakurssi (comics course) »
---
Describe your website.
Main material of the site is comics and images made by children . They are motivated better when they can see their works at the web, show them for their friends and parents. Also they get more self confidence.
The site also informs people about different happenings related comics.
Who is the target audience for your website?
Children themselves , their parents and people who who are working with comics and children.
Why did you use this Sandvox design?
"Earth&Sky" is simple with nice colors and
possibility to change title graphics.
---
---
www.SandvoxSites.com/245