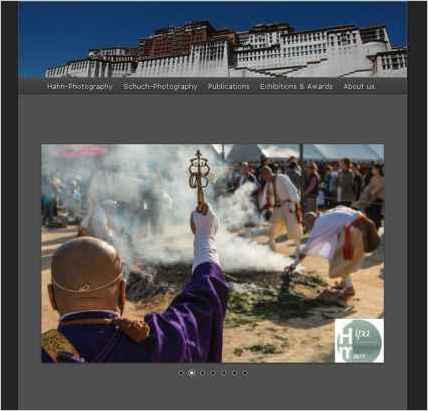 Sandvox was the choice for Johan to build his website for Hahn-Photography. He chose the "Smooth Dark" design for the site.
Hahn-Photography - Photography on the Highest Level
(Website is no longer listed here.)
Sandvox features used for this site:Blog, Photo Grid, Site Map, Contact Form, Other Objects, Raw HTML Object
Visit Hahn-Photography - Photography on the Highest Level »
--- Describe your website.
The website of Hahn-Photography show examples my work on of corporate photography, social and travel photography from Asia (Tibet http://www.hahn-photography.com/travel/asia/tibet/, Bhutan, http://www.hahn-photography.com/travel/asia/bhutan/ Chinahttp://www.hahn-photography.com/travel/asia/china_2/) and some examples of my decorative photo art http://www.hahn-photography.com/art_work/.
My decorative art work is sold directly and send worldwide free of charge.
I also present my photo books on Tibet, China and Bhutan http://www.hahn-photography.com/photo_books/.
If you are interested in art work or books, please contact me:http://www.hahn-photography.com/about_me.html.
Who is the target audience for your website?
If you are looking for photo art, for the best in corporate photography,in travel photography, or in fine natural portraits Hahn-Photography is the best choise. My photo projects result in beautiful photo books with foreword by well know people such as the Dalai Lama.
You are responsible for the visual image of your organization and you need the best photo series you can get to present and promote your products, your environmental responsibility, your production lines, your targets, etc.
Hahn-Photography can help you!
If you want to know more about me, see my weblog on http://www.hahn-photography.com/my_weblog.html.
What is the advantage of your website over others?
If you hire Hahn-Photography you not only get the best in photography, but also the best professional consult on the best way to use photography and visual art to strengthen your position in the market.
I have a thirty year carrier in PR and communication (including a PhD) and I have been CEO of several charities. That makes me more then just a photographer. That gives my photography that special touch you'll find no where else!
Based in Western Europe I have worked both in Europe and Asia and can work wherever you need me. I Work with light photo equipment and I can be on every place on earth within hours or a couple of days.
Tell us a story about this website.
You'll find a couple of photo books on my website. They are not only for sale but they do actually support the Tibetan course. The net revenue of every photo book is donated to a small Dutch charity (SHAT) that effectively supports Tibetan refugee children in India. They are the kids that walked the 6000 meter passes of the Himlaya hunted by the Chinese border police, to be educated in their own culture, that is severely oppressed by the Chinese, occupying Tibet since 1950.
Why did you use this Sandvox design?
I needed a black background and a supporting picture that had to do with traveling, Asia etc. The choice was obvious. It shows the only human made structure that can be seen from the moon: the Chinese Great Wall.
What techniques did you use to build this website?
I put an invisible external counter on the first page of my website, using a RAW HTML code. I did the same with the (visible) copyright button.
I integrated my linkedin profile and my weblog. Both are external links that were easily integrated.
---
---
www.SandvoxSites.com/247