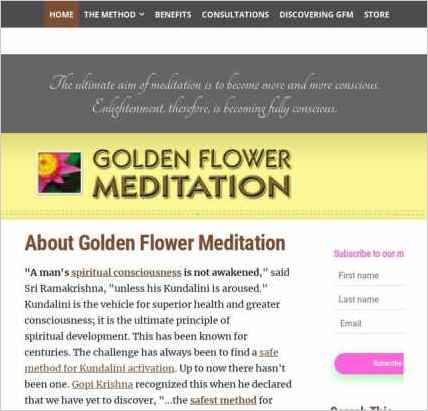 To build "Golden Flower Meditation" for Life Force Books, JJ Semple chose Sandvox. He chose the "Blueball Apex Brown" design for the site. People may want to visit the site if they are looking for meditation to awaken Kundalini.
Sandvox features used for this site:Blog, Podcast, External Page, Custom Collection Index, Site Map, Contact Form, Amazon.com, YouTube, QuickTime Audio/Video, RSS Feed Object, Other Objects, Editing HTML of text, Raw HTML Object, Code Injection, Google Integration
Visit Golden Flower Meditation »
---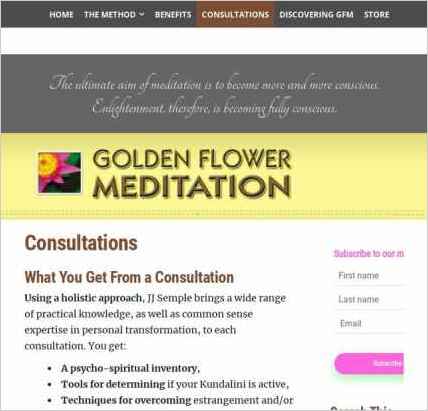 Describe your website.
We are developing a series of interrelated sites. Golden Flower Meditation (GFM) is a site that provides specific information on the meditation method featured in JJ Semple's books "Deciphering the Golden Flower One Secret at a Time" and "The Backward-Flowing Method: The Secret of Life and Death". We use the Sandvox External Page feature to link to our Life Force Books site store so that visitors can purchase these books.
Says JJ Semple, "Although the method itself is very powerful; I don't think it's right to charge money for it. So we give the method away on the site. All the techniques, all the features; we don't hold anything back. If people want more information on stimulating neuroplasticity and the other benefits of GFM, they can buy my books."
In addition to information on preparing for GFM, one page on this site explains the synergy between GFM and Raw Foods.
The Diaphragmatic Deep Breathing page describes the breathing exercises for practicing GFM.
We also feature a Forum and a Blog. The Golden Flower Forum uses Bravenet's widget code, which allows it to be integrated into the Sanvox design and appear like it was created by us. The Golden Flower Blog uses the Sandvox blog page type.
For those who've become disoriented after a Kundalini experience or just want more information managing it, there's a page dedicated to telephone consultations. Callers can confer privately with JJ Semple.
Who is the target audience for your website?
All sorts of people meditate; all sorts of people have spiritual experiences. These experiences are real. Golden Flower Meditation (GFM) provides a practical foundation for spiritual exploration, allowing students to activate Kundalini safely.
"Discovering GFM was the turning point in my life; the method activated my Kundalini," says JJ Semple. "Kundalini has had a major impact on my health. My body has been completely rejuvenated as a result of GFM."
GFM has nothing to do with religion; it is non-denominational. We are not out to convert or proselytize; we offer safe meditation for practitioners who want to explore their spiritual being.
What is the advantage of your website over others?
Golden Flower Meditation (GFM) is the only safe method for permanent Kundalini activation. It works time after time over any given population. Even if individuals don't use GFM, Yoga and Meditation teachers should be aware of JJ Semple's books and his Kundalini experience — how he collaborated with Gopi Krishna in the 1970s to come up with a safe method for awakening Kundalini. JJ Semple is one of the foremost living authorities on Kundalini living today.
Tell us a story about this website.
We used our Life Force Books site for a marketing test to see whether people would discover JJ Semple's second book, "The Backward-Flowing Method: The Secret of Life and Death." When he finished the book, we printed up some "Publisher's Bound Galleys." These look just like a real book, but are publication review copies, featuring discovering GFM, The Method and other topics. Using PayPal, we put the book up for sale 5-days over the 2008 4th of July weekend. Without any advanced publicity, with no prior, paid PR, we processed 7 orders from all over the world through PayPal in three days. This proved that on the strength of JJ's first book, "Deciphering the Golden Flower One Secret at a Time" people had found the site and the new book. Given the reluctance to purchase over the net from a small site via PayPal, this experiment was a triumph. It meant that the Sandvox Google feature had done a good job positioning the site and we had been able to follow up with Analytic and Webmaster Tools. The upshot is we landed a distribution agreement. Great reward for the five minutes it took to develop and publish this pagelet.
Why did you use this Sandvox design?
We started with one of the Sandvox designs, but switched to Charlie's wonderful Bluebell Cubicle design. We love its simplicity and his excellent customer support. And all the Sandvox features work fine with his designs. Switching over was a breeze. Maybe 10 minutes of cleanup. That's all.
What techniques did you use to build this website?
We've used a lot of the Sandvox features, but not all. Rather than talking about "clever tricks" which, in our case, are not the result of cleverness, but persistence and dumb luck, we'd rather talk about our approach to creating a site. We try to get a site up and running quickly. Sandvox then allows us to revisit the site frequently, whenever we have an idea for improving it. It's so easy to add and improve pages. The Raw HTML feature allowed us to create the Golden Flower Forum on another site and copy the generated code into our page and make it look like we'd created it.
What we appreciate most is Sandvox's stability. So many apps crash on update or save. As far as we recall, we've never had Sandvox crash on Save & Publish.
---
---
www.SandvoxSites.com/90