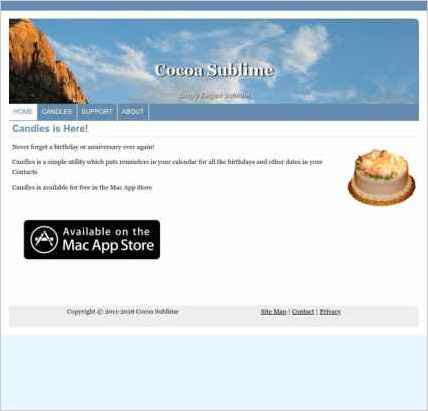 To build "Cocoa Sublime Software," John Gronow chose Sandvox. He chose the "Earth & Sky Blue" design for the site. People may want to visit the site if they are looking for Mac and iPhone software.
Sandvox features used for this site:Site Map, Contact Form, Editing HTML of text, Raw HTML Object, Google Integration
Visit Cocoa Sublime Software »
---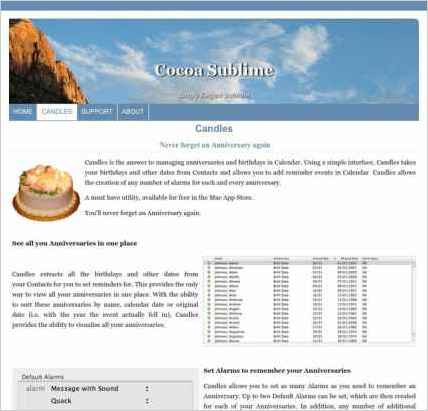 Describe your website.
Our website aims to publicise our software company, and the wonderful products we sell, such as our new birthday reminder program, Candles.
Who is the target audience for your website?
Our products are targeted to the world wide audience of Mac and iPhone users.
Why did you use this Sandvox design?
We are using the 'Earth and Sky Blue' design which we felt gave a professional look, with clear navigation around the site.
What techniques did you use to build this website?
The beauty of Sandvox was that we didn't need to do anything 'tricky' to get the site to look just the way we wanted. At a couple of points in the development of the site we thought we would need to code a page using a raw HTML pagelet, but in each case we were able to get the right effect just using the full options for adjusting media pagelets.
---
---
www.SandvoxSites.com/1452