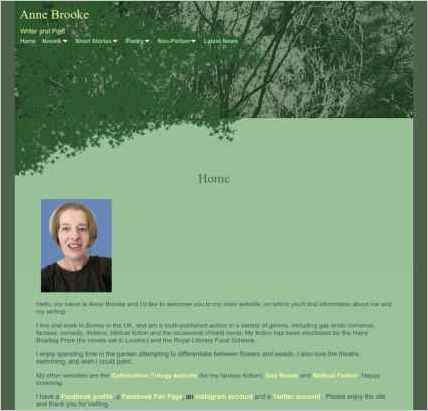 Anne Brooke used Sandvox to build this website. She chose the "Simply Purple" design for the site. People may want to visit the site if they are looking for books, novelists, poets, short story writers, crime fiction, gay.
Sandvox features used for this site:External Page, Contact Form, Amazon.com
---
Describe your website.
My website showcases my novels, short stories, and poetry, as well as my role as a reviewer for Vulpes Libris Reviews. It also keeps readers up to date with my latest news, in terms of writing and books. You can find examples of all my novels, stories and poetry on the relevant pages, and also links for more information and for buying details. There is also a link to my blog.
Who is the target audience for your website?
My target audience is readers of crime and contemporary fiction and erotic stories. They can be any gender or age range, but their key focus is good quality literature.
Tell us a story about this website.
Since my new Sandvox website was published, I have had several readers of my work contact me to say how much they loved the new improved look. Thank you, Sandvox!
Why did you use this Sandvox design?
I chose this Sandvox design as it's classy and elegant, with the simplicity that I was looking for. The colour is also perfect as it doesn't overpower the content.
---
---
www.SandvoxSites.com/1406