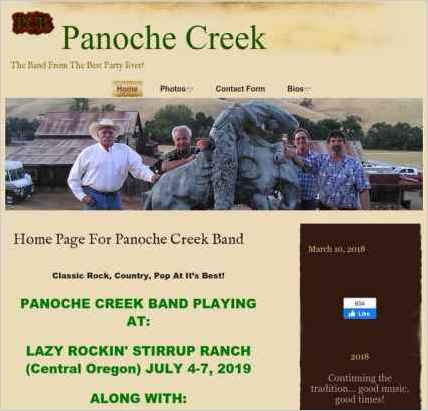 To build "Panoche Creek Band," Jimmy Marchini chose Sandvox. He chose the "Telegraph Office" design for the site. People may want to visit the site if they are looking for music, bands.
Sandvox features used for this site:Contact Form, YouTube, QuickTime Audio/Video, Raw HTML Object
---
Describe your website.
Our site is a simple website meant to communicate with those who would like us to provide music for their events. We have a schedule calendar and a contact form that is sent to all the band members so that we can reply quickly to inquiries. We have photo albums in which we feature many of the wonderful people who have attended our performances. Everyone likes to see themselves in glorious color photographs.
Who is the target audience for your website?
We provide information for prospective clients who would like to hire us for their events… wedding receptions, fund raisers, perhaps just a simple party. We try to make them as much a part of the show as the band.
What is the advantage of your website over others?
I don't know that we have an 'advantage' over other bands offering website presentations of their music… other than, perhaps, the comments added to various pages in which people can speak with us, each other, and share the stories made while enjoying the music and dancing.
Why did you use this Sandvox design?
We chose "Telegraph Office" as our design because we felt it best represents who we are. Simple country folk… all of us are farmers by day. We do play country music, but also rock, and pop… and about anything requested. The design theme is meant to convey the environment we grew up in and a 'comfort level' that conveys exactly who we portray ourselves as.. with no pretensions.
---
---
www.SandvoxSites.com/1473