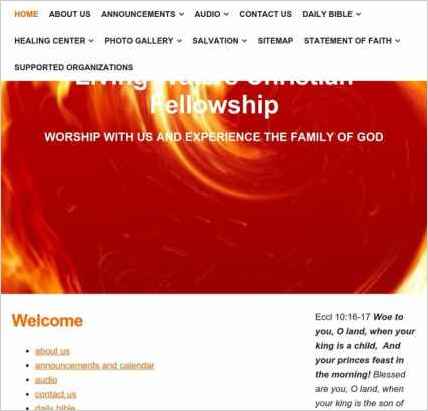 Rodney Wicklund used Sandvox to build this website. He chose the "Blueball Flexor Orange" design for the site. People may want to visit the site if they are looking for a local church.
Sandvox features used for this site:Blog, Podcast, External Page, Photo Grid, Site Map, Contact Form, YouTube, QuickTime Audio/Video, RSS Feed Object, Other Objects, Code Injection
Visit Living Waters Christian Fellowship »
---
Describe your website.
We have text photos links video audio powerpoint presentations document downloads.
Who is the target audience for your website?
Western Wisconsin and Eastern Minnesota Minneapolis, St Paul Eau Claire etc.
What is the advantage of your website over others?
We offer a free library available to all who visit. All of our services are supported by the local congregation.
Tell us a story about this website.
We have not used it long enough to answer this question.
Why did you use this Sandvox design?
It was the closest to our church signage of blue and white.
What techniques did you use to build this website?
I had to download a flash player video converter to work around some of the videos that we produced.
---
---
www.SandvoxSites.com/1469