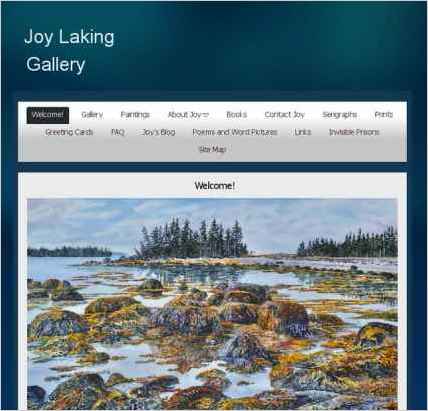 To build "Joy Laking Gallery," Robert Wyatt chose Sandvox. He chose the "Aurora Palace Blue" design for the site. People may want to visit the site if they are looking for Water Color Nova Scotia Canada.
Sandvox features used for this site:Photo Grid, Custom Collection Index, Contact Form, RSS Feed Object, Google Integration
---
Describe your website.
Selected works from one of Nova Scotia's premiere artists.
Who is the target audience for your website?
Anyone looking to keep a piece of Nova Scotia in their home or office.
Tell us a story about this website.
Before Sandvox, this site was maintained in a basic HTML editor. Since I took it over and used Sandvox, changes happen in a controlled and immediate manner.
Why did you use this Sandvox design?
The particular design was color appropriate for the Artist's pleasure.
---
---
www.SandvoxSites.com/1419