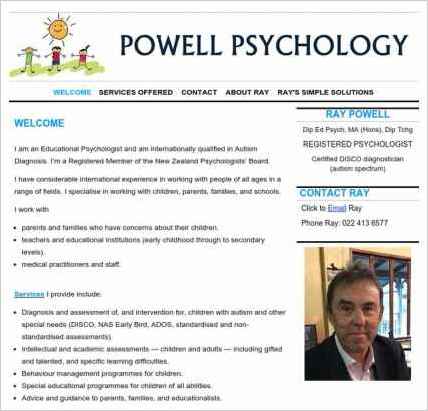 Jan Powell used Sandvox to build this website for Ray Powell Psychologist. She chose the "Distinction Blue" design for the site. People may want to visit the site if they are looking for Psychologist services.
Sandvox features used for this site:Blog, Custom Collection Index, Contact Form, RSS Feed Object, Other Objects, Editing HTML of text, Code Injection, Google Integration
---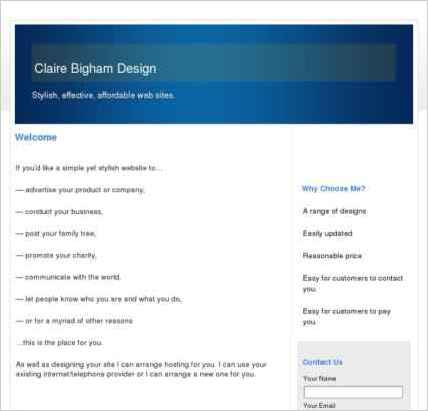 Describe your website.
Ray Powell is a New Zealand-trained Educational Psychologist and registered member of the Psychological Society of Ireland who has considerable international experience in working with people of all ages in a range of fields:
• Autism diagnosis (DISCO)
• Behaviour management programmes for children
• Intellectual assessments - all ages
• Special educational programmes for children of all abilities
• DARE applications
• Classroom management courses and teacher guidance
• Sports psychology and motivation
• Conference content - keynote speaking and seminars
• Advice to policy makers
• Management training and experience
Who is the target audience for your website?
All ages and genders of people seeking advice and help for psychological concerns in a range of areas.
People who need professional assessment for entry to education, eligibility for funding, and access to resourcing.
Teachers who would like classroom management skills.
Conference organisers seeking a keynote speaker or working group leader.
Sports organisations seeking a psychologist/motivator.
Business and education managers seeking help, ideas, and advice.
What is the advantage of your website over others?
My website explains the services I offer. I have 30 years of psychological experience, I have been a classroom teacher. I have been a business manager. I've organised conferences and been a keynote speaker. I have been a high-level sportsman.
Why did you use this Sandvox design?
I chose the design because I thought it looked professional. It is easy to navigate.
---
---
www.SandvoxSites.com/1196