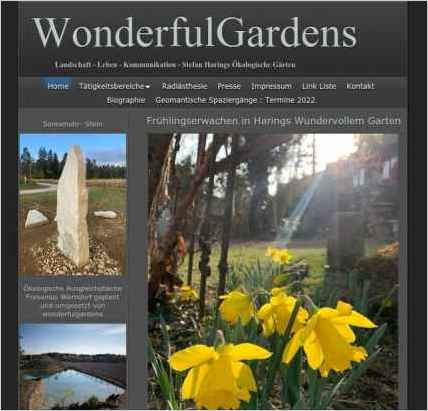 Sandvox was the choice for Stefan Albert Haring to build his website. He chose the "Smooth Dark" design for the site.
garden photograph stone energetik pendler gärtner planung baumpflege steinsetzung rutengeher gartenkunst dramaturgie
Sandvox features used for this site:Site Map, Contact Form, Other Objects, Google Integration
---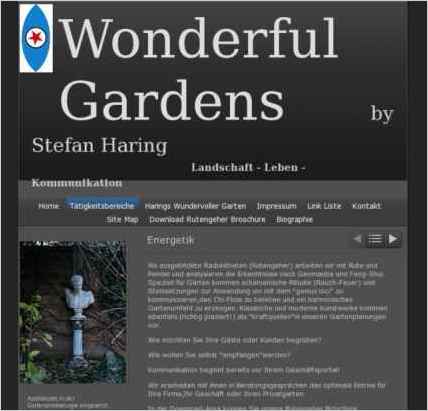 He entered his answers in German.
Describe your website.
Meine Tätigkeitsbereiche in Wonderful Gardens umfassen,Energetik,Planung und Gestaltung von Energetischen Gärten.
Wir untersuche als ausgebildete Rutengeher (Radiaestheten) die Gärten auf Geomantische Strukturen (geomantic structures)und interpretieren diese Erkenntnisse für die Planung des Gartens.Diese Arbeit nenne ich Landschaftsenergetik.Mit Methoden wie Steinsetzungen an bestimmten Punkten des Gartens oder schamanischen Ritualen versuchen wir den Genius loci zu versöhnen und so ein harmonisches Gartenumfeld zu erzeugen.Wir arbeiten auch mit Klassischer und moderner Kunst zu diesem Zweck.
Landschaft ,Leben ,Kommunikation ist daher unsere Philosophie.Das Planungsbüro befindet sich in Harings Wundervollen Garten in Deutschfeistritz,Steiermark.Wir bieten auch einen Download für unsere Rutengeher Broschüre,darin können Kunden weitere Informationen finden.Mein Name ist Stefan Albert Haring sie finden wieter Informationen auch unter Biographie.
Who is the target audience for your website?
People that want to renovate an old garden or create a new garden under aspects of energetics and deep knowledge about the quality of plants and stones for harmonizing our
life.
What is the advantage of your website over others?
I use old techniques to optimize the energetic qualities of gardens by using stones, trees and other special plants.
Why did you use this Sandvox design?
I use the Smooth Dark Design.
It symbolizes for me the Cosmic Yin-Yang sign.
---
---
www.SandvoxSites.com/1033