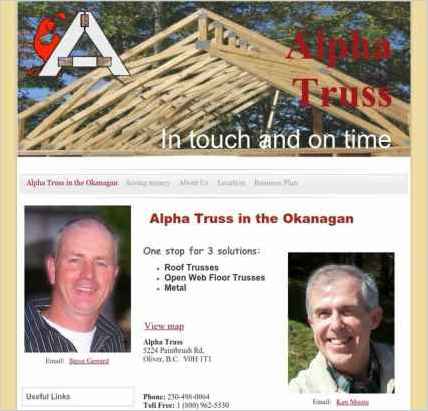 To build "Alpha Truss," Diane McWilliams & Helen Ramani chose Sandvox. They chose the "Crimson Royale" design for the site. People may want to visit the site if they are looking for Metal roofing, roof trusses, saving money ideas.
Sandvox features used for this site:Photo Grid, Other Objects, Editing HTML of text, Code Injection, Google Integration
---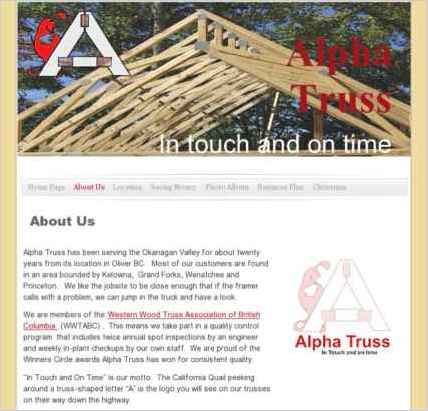 Describe your website.
The purpose of our website is to reach builders and framers in the South Okanagan and area. One stop will fulfill their needs for roof trusses and metal for the roofs. The site offers information on saving money and provides links relating to designing and building trusses. Visit our shop or contact us by phone or email to get a quote. Our motto is "In touch and on time", meaning we have at-a-glance markers for acquiring, customizing, embedding and deploying (ACED) the trusses when we say we will.
Who is the target audience for your website?
Our customers are builders and framers,developers, farmers and business people, anyone who is building homes, townhouses, garages, industrial buildings or planning a renovation.
What is the advantage of your website over others?
We put the framer first, like doing site visits, have a standard of "In Touch and On Time" and put job site problems ahead of other production, fixing things within hours whenever possible. You can get metal roofing and siding ordered at the same time as the trusses. We don't wait to get the job before working with you to solve plan problems. Ours is the only site I've seen with money saving suggestions.
Why did you use this Sandvox design?
The website had to have simple lines, and look uncluttered and be helpful. Other designs would have worked too, but this one hit the spot.
What techniques did you use to build this website?
The biggest thing was to be able to stretch the banner photo and make it somewhat transparent so that the site title motto and logo would stand out. Everything else was simple. It was the first site I launched.
---
---
www.SandvoxSites.com/1077