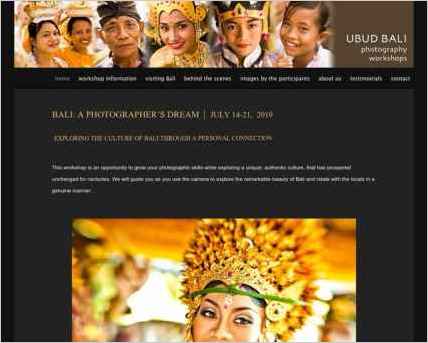 George Simian used Sandvox to build this website. He chose the "Grafite" design for the site. People may want to visit the site if they are looking for Photography workshop, photography instruction, excursion through.
Sandvox features used for this site:Photo Grid, Contact Form
Visit Photography Workshops in Bali, Indonesia, centered on the town of Ubud »
---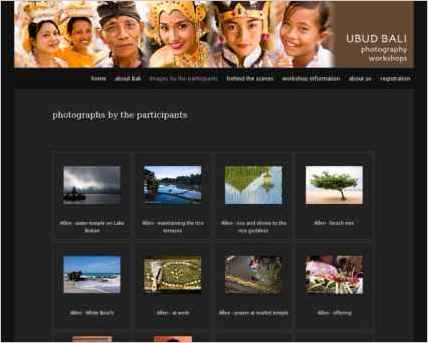 Describe your website.
June and July 2011 photography workshops in Manggis and Ubud, Bali, Information about Bali, workshop information, images by the participants, images from behind the scenes during the workshops, information about us, the workshop leaders, and registration information. This will provide a full range of information for the photographer interested in a workshop in Bali during 2011
Who is the target audience for your website?
Advanced enthusiasts and professional photographers with interest in travel photography, and a particular fascination with the unique culture of Bali.
What is the advantage of your website over others?
My wife is a native Indonesian, and I have visited and photographed in Bali for 15 Summers, as well as let workshops for the past 4 Summers. I believe we can provide insight and resources that others don't have. We are passionate about the Balinese culture and environment, and very knowledgeable about photography, with a long successful history of teaching it to others of all walks of life!
Why did you use this Sandvox design?
I tried a few other designs, but this one was the cleanest and maximized the display of images - as a photographers, it's all about the photos!!!
---
---
www.SandvoxSites.com/1136