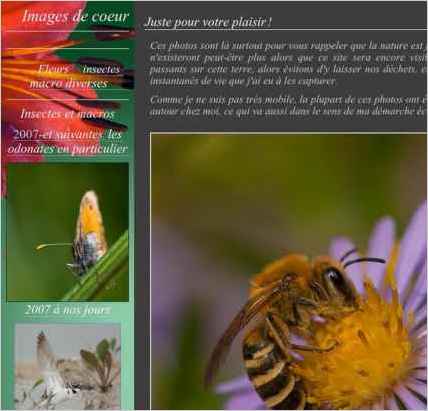 To build "Mes Photos de Coeur, My Heart's Pictures," Caroline Gagnaux chose Sandvox. She chose the "Grey Leaf" design for the site. People may want to visit the site if they are looking for bird pictures, nature photography, flowers photography, portrait.
Sandvox features used for this site:External Page, Custom Collection Index, RSS Feed Object, Other Objects, Editing HTML of text, Raw HTML Object, Code Injection, Google Integration
Visit Mes Photos de Coeur, My Heart's Pictures »
---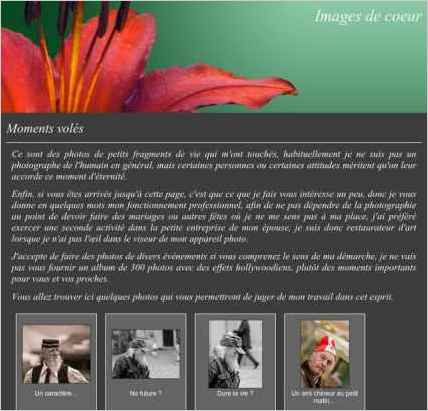 Describe your website.
Flowers, birds, animals, people, all subjects who are interesting me in photography.
Who is the target audience for your website?
Persons who are implicated in wildlife conservation, people who search for birds pictures, or flowers pictures and want to buy one or just to see them.
What is the advantage of your website over others?
Good quality web pictures.
Tell us a story about this website.
My website is referenced by the Ligue Royale Belge pour la Protection des Oiseaux.
Why did you use this Sandvox design?
It permits use of great dimensions pictures.
What techniques did you use to build this website?
The most interesting is to use the linked picture hosted on my website than the original Sandvox made picture which degrade a lot the image.
---
---
www.SandvoxSites.com/1224