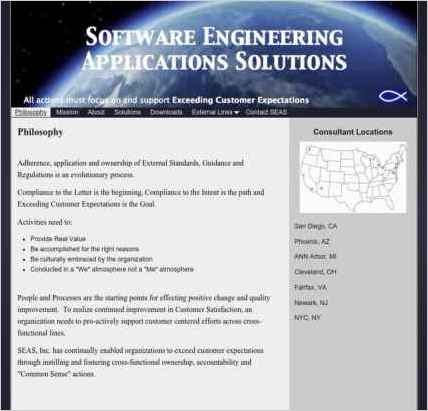 Charlie Gragg used Sandvox to build this website. He chose the "Imagine" design for the site. People may want to visit the site if they are looking for Developing Quality Systems based upon BPR.
Sandvox features used for this site:Site Map, Contact Form, Other Objects
Visit Managing to Exceed Customer Satisfaction »
---
Describe your website.
To describe the who, what, when , where and how of SEAS. Our Home Page is our philosophy. The Mission Page is how we provide our services. The About page is a list of the company directors with links to LinkedIn and links to a shot bio. The Solutions page is a list of solutions that link to a more detailed description of the particular service. The Contact page is the standard email contact page. The Links page lists links to other sites and the Site Map is just the site map.
Who is the target audience for your website?
Companies desiring the consulting service we provide. Companies desiring Business Process Re-Engineering, development or enhancement of their Quality Systems, 21CFR820 Compliance assistance and development and implementation of in-house training programs.
What is the advantage of your website over others?
Customer Focused.
Cross-functional ownership and teamwork.
Common Sense targeted plans of actions.
Tell us a story about this website.
Within two days of publishing the site we signed our first contract to provide consulting services in several areas.
Why did you use this Sandvox design?
The design is clean and well organized.
On the down side. While the tasks are fairly intuitive it took me some time to accomplish some things. As I found out through trial and error, when republishing the site older files remained and newer ones did not appear. After I started manually deleting the files all now appears to work well.
What techniques did you use to build this website?
Basically the site is still "out of the box". I intend to hone it and get somewhat more detailed in the near future.
---
---
www.SandvoxSites.com/1205