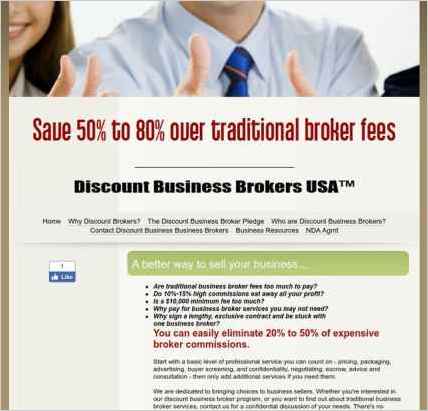 Bruce Cook used Sandvox to build this website. He chose the "Brown and Green" design for the site. People may want to visit the site if they are looking for business to sell or buy.
Sandvox features used for this site:Site Map, Contact Form, Other Objects, Editing HTML of text, Raw HTML Object, Code Injection, Google Integration
Visit Discount Business Brokers USA - Save 50% to 80% Over Traditional Broker Fees! »
---
Describe your website.
A resource for small business owners interested in selling their businesses.
Who is the target audience for your website?
Small business owners anywhere in the world.
What is the advantage of your website over others?
You will save 50% to 80% over traditional broker fees when you use Discount Business Brokers USA to sell your business.
---
---
www.SandvoxSites.com/1181