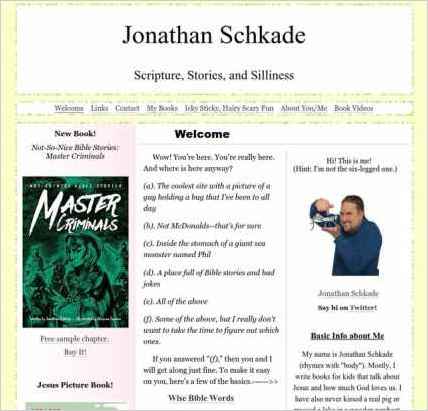 Jonathan Schkade used Sandvox to build this website. He chose the "Saffron" design for the site. People may want to visit the site if they are looking for fun Bible story books.
Sandvox features used for this site:Custom Collection Index, Site Map, Contact Form, Amazon.com, Other Objects, Google Integration
Visit Jonathan Schkade author site »
---
Describe your website.
My website shares cool information about me and my Christian children's books and gives kids great icky stuff to read and do. I want readers to have a good time, enjoy some Bible stories, and learn about my books, especially my newest one, "Icky Sticky, Hairy Scary Bible Stories," which is full of icky sticky, hairy scary fun.
Who is the target audience for your website?
Parents and teachers who enjoy my books or who are looking for a goofy, educational way to teach Bible stories will enjoy my site. Kids who crave fun stories and mildly gross activities and recipes will also want to poke around. Kids in grades 2-4 will especially like the site, but many older and younger people will find stuff they'll appreciate too.
What is the advantage of your website over others?
My Bible story books are a load of fun. My newest one, "Icky Sticky, Hairy Scary Bible Stories," is an especially fresh choice because it uses the gross, funny, and hair-raising parts of Scripture that appeal to kids' interests to tell entertaining and faith-building stories.
The site is packed with fun pictures, sample stories and art, activities (like making slime), sticky recipes, facts, and other strange and cool stuff.
Why did you use this Sandvox design?
It gave me enough space and flexibility to vary the layout of the pages on the site, but it had a simple structure. Visually, it looked kid-friendly and appealing but wasn't too busy.
What techniques did you use to build this website?
I tried to do a lot of crosslinking within the site to make it easier for users to find the information they want right when they want it.
---
---
www.SandvoxSites.com/1070