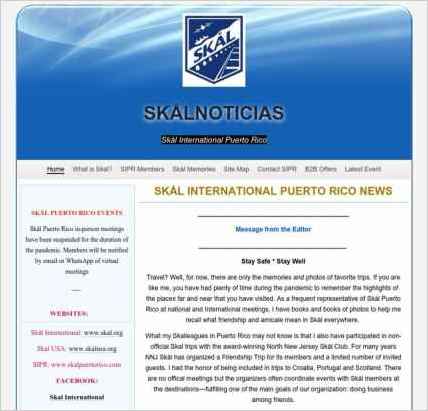 Ronald C. Flores used Sandvox to build this website for Skål International Puerto Rico. He chose the "Cirrus" design for the site. People may want to visit the site if they are looking for Travel and Tourism Professionals.
Sandvox features used for this site:Photo Grid, Site Map, Contact Form
---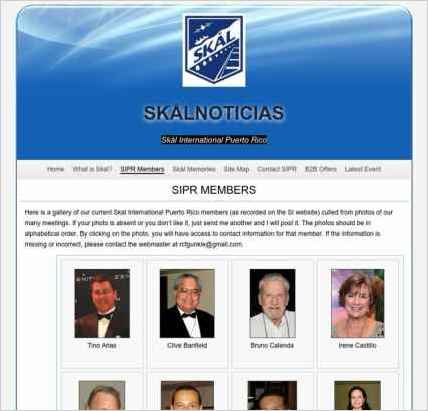 Describe your website.
My website is the information center of our association of travel and tourism professionals in Puerto Rico. Skål International is made up of more than 15,000 members in 370 clubs throughout 83 nations. Skal in Puerto Rico is celebrating 58 years of doing business among friends (and having fun doing it!). We keep in contact through the site, learn about upcoming events and see photos of past events.
Who is the target audience for your website?
Our site, Skalnoticias, [provides] news about Skål in Spanish. Our target audience includes our members, potential members, past members and friends of Skål International Puerto Rico, and other professionals in the tourism and transportation industries.
What is the advantage of your website over others?
I have only used iWeb and Sandvox, but I did test a few other web creation sites. Sandvox was head over heals easier to understand. I have had very few issues, but when I contact the company, customer service is excellent. I got a response quickly and a solution within 24 hours. I doubt many companies can match that!
Tell us a story about this website.
I recently updated the association site that I manage in Sandvox. I wanted a new look but also wanted to use one of the designs provided. I spent hours trying each one until I found one that looked just right. I redid the website, changed and added pages and did a total reworking. I then uploaded the site and it looked great. When I tried to reopen Sandvox, I got an "inconsistencies" error and it wouldn't load. I panicked. I needed to make some minor corrections and add a new page, but I couldn't get past the "inconsistencies" page. I told my club that I didn't know how long it would be before I could get the site working. To my surprise, Karelia support solved the problem in one email.
Why did you use this Sandvox design?
I was using the gold sunburst design previously because it gives a tropical feel and I liked the graphics. I changed to the "Imagine" design with the sailboat and sunset for the same reason--and I wanted a new look. If I knew how, I would use one of my own photos instead of the sailboat, but for now, I am happy!
What techniques did you use to build this website?
I did not use any different techniques in build my Sandvox site. My needs are pretty simple and Sandvox has built in more than I need. I store my photos in Aperture and I like that I can just drag and drop them into the pages.
---
---
www.SandvoxSites.com/3359