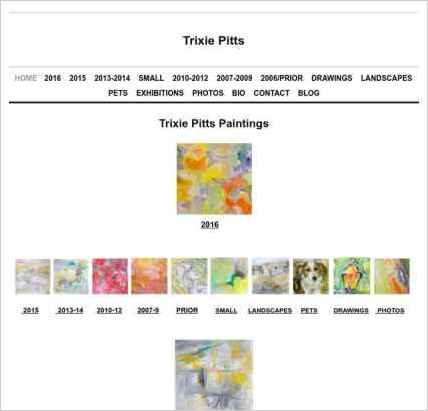 To build "Trixie Pitts," Trixie Pitts chose Sandvox. She chose the "Distinction Grey" design for the site. People may want to visit the site if they are looking for abstract painter.
Sandvox features used for this site:Blog, Photo Grid, Site Map, Contact Form, RSS Feed Object, Raw HTML Object
---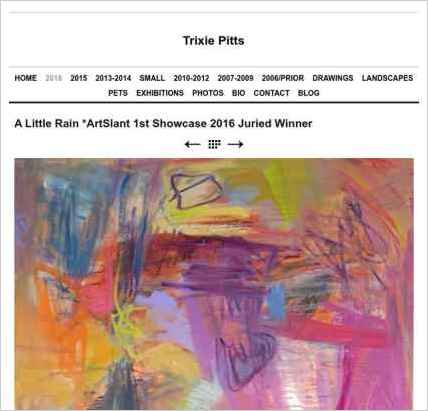 Describe your website.
My website showcases my abstract paintings. It is categorized by year, and genre. Besides abstract it includes drawings, landscapes, and photos.
It also works as a history and catalogue of my painting over the years and is my main tool for marketing my work.
There is a link to my blog page, TRIXIE TALKS ART (also made with Sandvox): http://www.trixiepitts.net, where I talk about the trials and tribulations and the joys of being an abstract painter.
Who is the target audience for your website?
My website has broad appeal for all art lovers of any age. Those who love abstract painting will be particularly pleased. Other artists enjoy my site to get ideas how to create their own sites. Potential buyers use my site to make choices for viewing and/or purchase. Galleries and organizations use my site to get an idea if my artwork is right for their exhibitions.
What is the advantage of your website over others?
After seeing my website, I think potential art buyers leave with a powerful sense of who I am as a painter and of the consistency and quality of my work.
Tell us a story about this website.
I share studio space with a tough bunch of New York City abstract painters. For them to be impressed with my website and even ask how I did it is a huge compliment!
Why did you use this Sandvox design?
The availability of a plain page white design was all important to me. I had no interest in a colored background with or without and ornamental designs. If that weren't an option I may not have begun with Sandvox! For me, I require the white minimalist background to show off my paintings.
What techniques did you use to build this website?
I used my home page as the gateway to my paintings. I have a link to a page about my current exhibitions and a link to my 2016 paintings. Then I have smaller picture links to past years, bio, and link to my blog.
I use the photo album page as a portal to pages of individual paintings. I also utilize the slideshow for each year and group of paintings.
---
---
www.SandvoxSites.com/3348