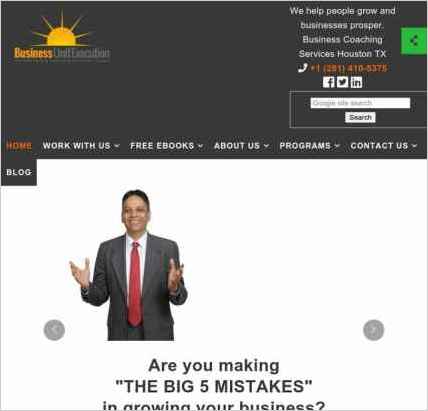 To build "Online Learning" for Business Unit Execution LLC, Suresh Iyengar chose Sandvox. He chose the "Blueball Reactive Orange" design for the site. People may want to visit the site if they are looking for career change, business coaching.
Sandvox features used for this site:Blog, External Page, Custom Collection Index, Site Map, Contact Form, Amazon.com, YouTube, QuickTime Audio/Video, RSS Feed Object, Other Objects, Editing HTML of text, Raw HTML Object, Code Injection, Google Integration
---
Describe your website.
I've designed my website to tell people about 2 career coaching online programs – Certified Business Unit Manager and Certified PMO Director and 1 business coaching program – Business Performance Metrics Assessment For Results. I offer an astoundingly unique service where I'd like to promote and attract people in need of business coaching and career coaching.
Who is the target audience for your website?
Businesses having revenues over $500,000 in need of business coaching would like what I offer on my website. Also, business professionals, ages 30-45, looking to advance their career will find my site unique and full of excitement.
What is the advantage of your website over others?
Find out how to amaze your friends, your loved ones, and most of all, YOURSELF by earning the CAREER YOU LOVE in as little as 3 hours–even if you've not had many years of business experience before, are skeptical of your potential, and suffer from major fright from quick career change!
Schedule Complimentary Business Coaching Session To Advance Your Business And Outpace Your Competitors Today!
Tell us a story about this website.
People are amazed to learn I've built my site with very little outside help at the cheapest price. Sandvox has given me the opportunity to showcase my web design skills, landing page copywriting skills, blog writing skills etc. with absolute ease.
Why did you use this Sandvox design?
Responsive design by Bluebonnet Designs is the best I've seen for Sandvox. And to top that, Charlie Lockhart is the best at supporting his products. His service is world class and I'd jump to buy any new thing his company has designed because he listens to his customers and answers them promptly. How many services have you seen do that consistently?
---
---
www.SandvoxSites.com/3357