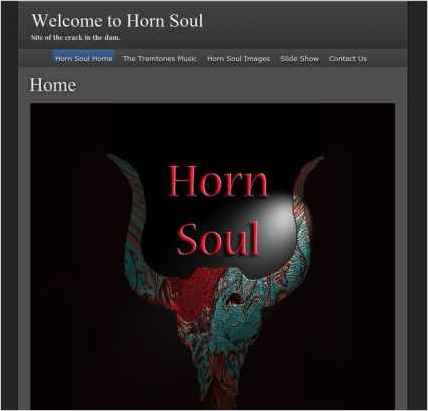 John L. Horn used Sandvox to build this website. He chose the "Smooth Dark" design for the site.
Hornsoul Music and Images
(Website is no longer listed here.)
Sandvox features used for this site:Photo Grid, Site Map, YouTube, Google Integration
This website is hosted by Sandvox Hosting.



Visit Hornsoul Music and Images »
---
Describe your website.
Hornsoul is stuffed with exciting Images that are for sale, and free music from the famous Tremtones Band.
Our Guitar art is famous. The images are stunning. The music looks back at a life in rock and roll.
Who is the target audience for your website?
Anyone looking for new music or beautiful images would love our site.
What is the advantage of your website over others?
We don't have any competition. We are unique.
Tell us a story about this website.
We get compliments quite often about our site.
Why did you use this Sandvox design?
I like several of the designs, and chose the one that fit best.
What techniques did you use to build this website?
I'm new to this; I didn't know any tricks.
---
---
www.SandvoxSites.com/3356