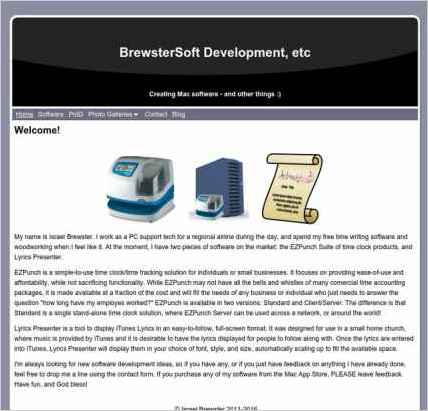 Israel Brewster used Sandvox to build this website. He chose the "Reflections" design for the site. People may want to visit the site if they are looking for Time clock software.
Sandvox features used for this site:Blog, Photo Grid, Custom Collection Index, Contact Form, Code Injection, Google Integration
Visit Brewster's Software, etc. »
---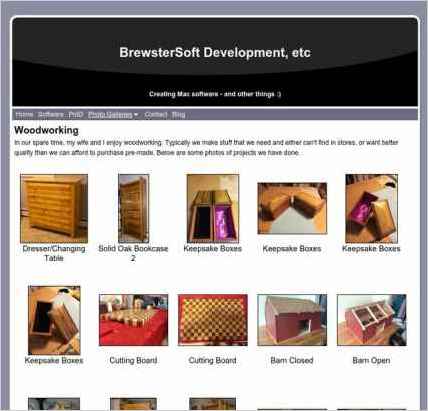 Describe your website.
My website contains several things. First, it is a showcase for my software: EZPunch Standard, EZPunch Client/Server, and Lyrics Presenter. Secondly, it showcases the various Woodworking projects my wife and I have done over the years. And finally, it is a place for me to post my Photo Galleries and Blog, containing whatever random pictures or thoughts I have had recently.
Who is the target audience for your website?
The target audience for my website is anyone looking for a cheap, Mac-based Time Clock solution, such as a small business owner or contract worker, or anyone interested in what I am doing.
What is the advantage of your website over others?
After visiting my website, my hope is that a customer would choose to do business with me rather than a competitor based on the price/quality proposition of my software over other options. The warm fuzzy feeling of supporting an individual, rather than a large company, will also hopefully be an incentive to some people.
Why did you use this Sandvox design?
I chose the Sandvox design I am currently using because I felt it provided a clean, professional look to my webpage.
What techniques did you use to build this website?
In order to get the three images on my home page centered, I had to use CSS with code injection to modify the display of the paragraph containing the pictures.
---
---
www.SandvoxSites.com/1793