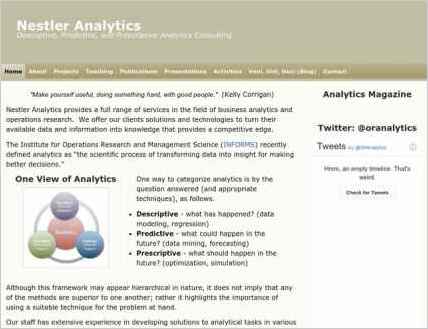 To build "Nestler Analytics," Scott Nestler chose Sandvox. He chose the "KS Big Time Sand" design for the site. People may want to visit the site if they are looking for analytics consulting.
---
Describe your website.
My website contains a description of the consulting services offered by Nestler Analytics, including descriptive, predictive, and prescriptive analytics. Additionally, it provides information on publications, presentation, and projects I have completed in the past. You might say that it is an online resume.
Who is the target audience for your website?
I expect that businesses who need consulting support for operations, management science, and business analytics will find the information on my website useful.
What is the advantage of your website over others?
I have extensive experience in building analytics models, especially those incorporating risk, using Frontline Systems' Risk Solver Platform.
Tell us a story about this website.
Although I have owned the nestler.com domain for a number of years, I am just starting to use it for business purposes. Previously, I used it for personal reason, like posting vacation pictures.
Why did you use this Sandvox design?
I chose this design because it looked clean and professional.
What techniques did you use to build this website?
I didn't really use any of the more advanced features yet, but look forward to trying them in the future.
---
---
www.SandvoxSites.com/1842