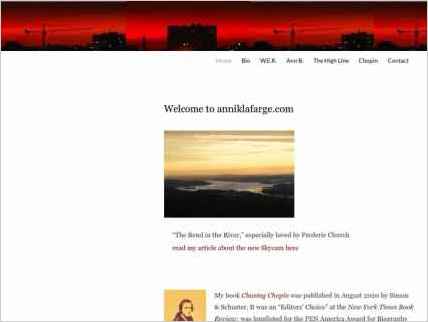 Sandvox was the choice for Rafael Cortes to build his website. He chose the "Lithium Red Classic" design for the site. People may want to visit the site if they are looking for the high line, the author online, articles by annik lafarge.
Sandvox features used for this site:Photo Grid, Contact Form, Other Objects, Google Integration
--- Describe your website.
Anniklafarge.com is a small (meaning it doesn't have a ton of pages) site I built for myself as a main landing spot for people who are looking for me online. I have a much more robust Sandvox site devoted to my book, TheAuthorOnline.com, and a Wordpress blog, LivinTheHighLine.com. I have pages devoted to these projects on Anniklafarge.com, plus a bio, some photographs (I'm a serious amateur photographer) and Miscellany, which includes links to articles I've written and a link to read poetry by my father, W.E.R. La Farge.
Who is the target audience for your website?
I wear various professional hats: I'm an online project manager who builds big, complex websites for authors and I'm just getting into project management for enhanced eBooks; and I'm also an editor and a writer. So anniklafarge.com is the place where I link to information about all those different activities.
What is the advantage of your website over others?
No particular advantage here because it's a personal site and I'm just attempting to steer people to whatever they might be interested in.
Tell us a story about this website.
I got a speeding ticket on the Taconic Parkway in New York because I had violated a law I didn't even know existed: that you have to move into the left lane when you pass a cop or emergency vehicle that's parked on the shoulder. I learned from the officer who stopped me that the law had been named for a state trooper, Robert W. Ambrose, who was killed by someone who struck him while he was stopped alongside the highway. I was sorry to get a ticket, but it prompted me to do some research into this law and Trooper Ambrose, and I wrote a piece about him that I published on this website (http://anniklafarge.com/trooper-ambrose). Google Analytics indicates that a great many people have read this piece, and that gives me some satisfaction.
Why did you use this Sandvox design?
I'm using Blueball Gravitas, and I love it. It's clean, simple, and has given me lots of flexibility to create different kinds of pages. All Sandvox designs do that, of course, but this one works particularly well for me, and I'm currently building another site with it that will launch soon. I had a technical question and I emailed the Blueball people and was pleasantly surprised when they got back to me right away, within 24 hours. It was actually a simple thing that had nothing to do with their theme, but they were very nice and just pointed me to the answer, without making feel silly for wasting their time. I appreciated that.
What techniques did you use to build this website?
I used a Google map app for the first time (http://anniklafarge.com/blog.html)
---
---
www.SandvoxSites.com/1879