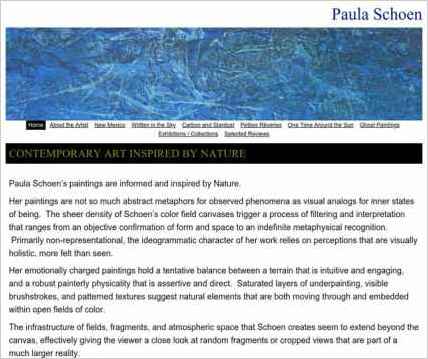 To build "Paula Schoen / Contemporary Art," Paula Schoen chose Sandvox. She chose the "Black & White" design for the site. People may want to visit the site if they are looking for contemporary art in Santa Fe New Mexico.
Sandvox features used for this site:Blog, Photo Grid
Visit Paula Schoen / Contemporary Art »
---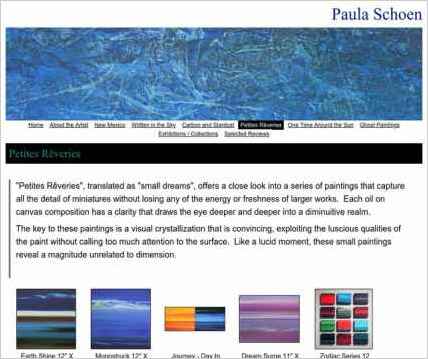 Describe your website.
I'd like to share the contemporary art that I create with people who are interested in oil on canvas paintings that are inspired by nature. My Lives of the Paints blog lets me share my thoughts about art, what is Written in the Sky and painting. My goal is to generate exposure of my art with other artists, curators, interior designers and art consultants who may want to work with me or visit my studio in Santa Fe, New Mexico.
Who is the target audience for your website?
Contemporary art collectors, interior designers and art consultants will be interested in the information and images on my website for their clients or for themselves. Contemporary art gallery directors will enjoy the ease with which they can view images on my website. Anyone who loves fine art inspired by nature will appreciate the beauty of my paintings and the ability to contact me directly.
Tell us a story about this website.
Building my website with Sandvox forced me to get all of my digital photos in order. In the process, I was able to revisit some great exhibitions, trips and paintings that I had not seen for a few years. Plus, my newly designed site gave me the opportunity to contact others in the art community and update them on my new work and projects.
Why did you use this Sandvox design?
The design that I chose was minimal and did not compete with the photo album images. The menu is easy to find and navigate. The look was contemporary and clean...very much like the artwork I am promoting.
---
---
www.SandvoxSites.com/1869