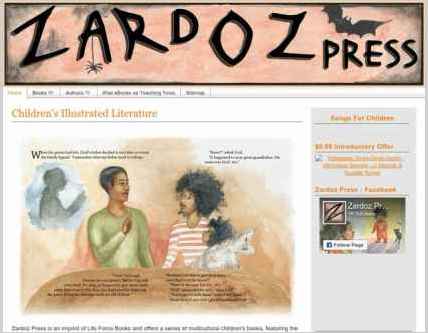 JJ Semple used Sandvox to build this website for Life Force Books. He chose the "Blueball Cubicle Orange Wide" design for the site. People may want to visit the site if they are looking for children's books.
Sandvox features used for this site:Site Map, Contact Form, Amazon.com, Raw HTML Object, Google Integration
---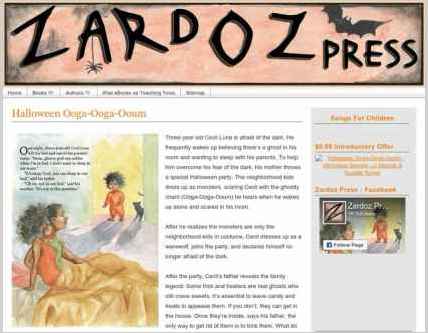 Describe your website.
Zardoz Press is an imprint of Life Force Books and offers a series of multicultural children's books, featuring the Luna family. The series is an idea of writer Véronique Semple and her husband, author/publisher JJ Semple. Illustrations by Suzette Turner. The first title is Halloween Ooga-Ooga-Ooum.
Who is the target audience for your website?
We're reaching out to a multicultural audience that wants topical subject matter for their children. We eschew political correctness in children's books. Other titles in the series, namely Middle School Ooga-Ooum, Basketball Ooga-Ooum, Ooga-Ooga High School, Valentine's Day Ooga-Ooum will follow shortly. All titles feature the Luna family. Over the years, we watch the family face a variety of challenges — in school, at home, in sports, at work.
What is the advantage of your website over others?
This website will become more interesting as we add titles to the series. Hopefully, in time, we will be able to included *live demos* of the Read Aloud feature for teh iPad/iPhone.
Tell us a story about this website.
Suzette Turner did the illustrations as watercolors. We scanned them at 400dpi. Since we offer both print versions — saddle stitch and case bound — and a version for the iBookstore, we were faced with trying to get teh artwork to fit in media with two different pixel sizes. It took a lot of creative adjustments.
Why did you use this Sandvox design?
We used Blueball Cubicle Orange because it offers easy to use sub menus with Sandvox 2.0.
We will be using more features as we develop the site and our product line.
What techniques did you use to build this website?
This was the first we created using Sandvox 2.0. We have to toggle back and forth between Snow Leopard and Lion to manage all our sites, most of which are still on 1.6.8. We like the sub menu feature and plan to use it a lot as we add titles.
---
---
www.SandvoxSites.com/2012