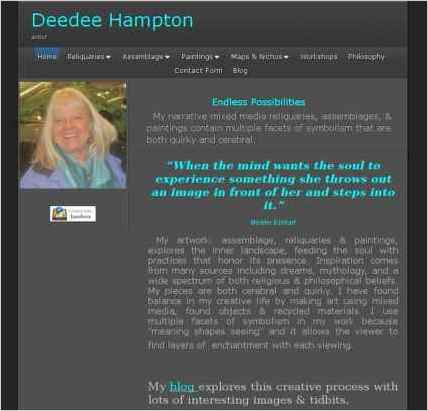 Sandvox was the choice for Deedee Hampton to build her website. She chose the "Smooth Dark" design for the site.
Deedee Hampton
(Website is no longer listed here.)
Sandvox features used for this site:Photo Grid, Contact Form
---
Describe your website.
My artwork: assemblage, reliquaries & paintings, explores the inner landscape, feeding the soul with practices that honor its presence. Inspiration comes from many sources including dreams, mythology, and a wide spectrum of both religious & philosophical beliefs. My pieces are both cerebral and quirky. I have found balance in my creative life by making art using mixed media, found objects & recycled materials. I use multiple facets of symbolism in my work because "meaning shapes seeing" and it allows the viewer to find layers of enchantment with each viewing.
Who is the target audience for your website?
My art would appeal to women,who are cerebral& quirky, that are interested in the exploration of life's transitions i.e. the inner landscape.
Tell us a story about this website.
Just started so haven't gotten any feedback yet.
Why did you use this Sandvox design?
I chose this website design because I think dark colors work well for art work- it makes the colors "pop".
What techniques did you use to build this website?
I will explore more about what I can do now that I feel more comfortable with how easy Sandvox made the initial setup.
---
---
www.SandvoxSites.com/1999