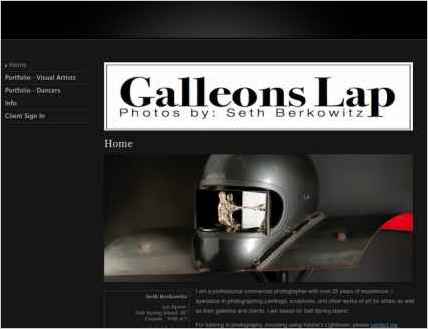 Sandvox was the choice for Michael Robb and Seth Berkowitz to build their website. They chose the "Blueball Shadow Gray" design for the site. People may want to visit the site if they are looking for Fine Art Photography on Salt Spring Island.
Sandvox features used for this site:External Page, Photo Grid, Custom Collection Index, Site Map, Contact Form, Other Objects, Editing HTML of text, Code Injection, Google Integration
Visit Galleons Lap Photography »
---
Describe your website.
I built my website to showcase my photo art, my commercial photography, and my photographic workshops. I want my customers to be able to find info on who I am and what I do easily and quickly, and then to contact me.
Who is the target audience for your website?
My audience is three fold. 1) Collectors or photographic art, 2) People on Salt Spring Island who need photographic services, and 3) People living on the Salish Sea who are looking for photo workshops.
What is the advantage of your website over others?
I like to think of myself as a one-stop shop. I can offer superior commercial photographic services in one of the few photo studios on Salt Spring. And I can teach people how to take better photos for themselves.
Why did you use this Sandvox design?
I like minimalist designs, and I find the selection of these designs to be 1st rate in Sandvox (and their 3rd party designers. I like my websites to get out of the way of the content, and so gravitate to those designs that do that.
---
---
www.SandvoxSites.com/1990