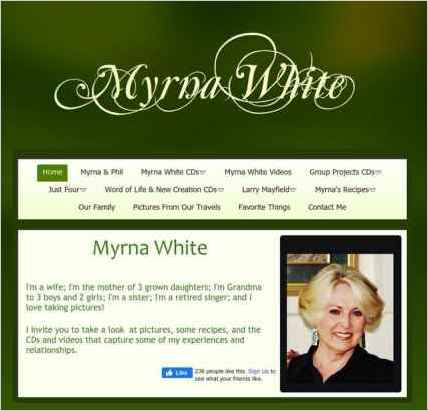 Sandvox was the choice for Philip White to build his website. He chose the "Aurora Palace Green" design for the site. People may want to visit the site if they are looking for Just Like a Butterfly, Just Four, Myrna Kinlaw White.
Sandvox features used for this site:External Page, Photo Grid, Contact Form
---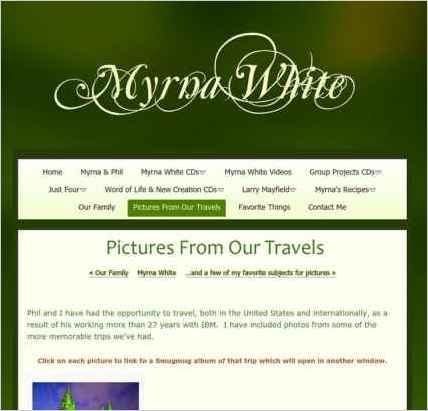 Describe your website.
My website is designed to showcase my wife, Myrna White, who was a soloist on Day of Discovery for 15 years, the Myrna White CDs that are available, the Myrna White DVDs that are available, her participation in Group Recording CDs, and her involvement with Just Four, a women's foursome who also have three CDs available. In addition, I have included some of Myrna's Recipes which are family favorites and have links to Smugmug albums of pictures from our travels and pictures of some of her favorite subjects, so that others can see her world through the lens of her cameras.
Who is the target audience for your website?
This target audience is people who have heard Myrna White sing in person, on the radio, or on a TV program during the thirty five years she was performing who may want a CD or DVD or may want to contact her.
What is the advantage of your website over others?
This website displays multiple dimensions of Myrna White including her musical career, as a homemaker, and as an avid amateur photographer.
Tell us a story about this website.
An initial review from a website developer friend is that "the website is extremely elegant with good continuity of style and functionality."
Why did you use this Sandvox design?
My wife's favorite color is green and the Aurora Palace Green design fills the entire screen, irrespective of the size, with green.
What techniques did you use to build this website?
I have attached a short audio clip of one song from four of the CDs. I have included links to Smugmug photo albums to enable visitors to view complete photo albums for more than 25 different subjects.
---
---
www.SandvoxSites.com/3124