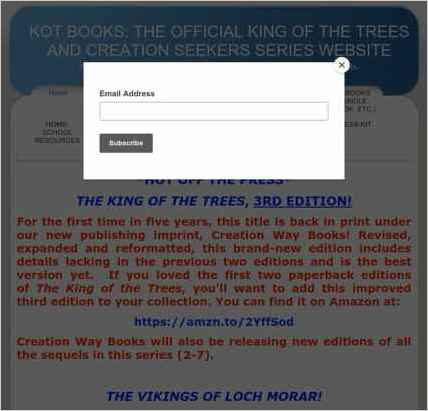 To build "The Official King of the Trees/Creation Seekers Series Website" for KOT Books, William Burt chose Sandvox. He chose the "Rounded Blue" design for the site.
The Official King of the Trees/Creation Seekers Series Website
(Website is no longer listed here.)
Sandvox features used for this site:Photo Grid, Contact Form, Amazon.com, YouTube, QuickTime Audio/Video, Editing HTML of text, Raw HTML Object
Visit The Official King of the Trees/Creation Seekers Series Website »
---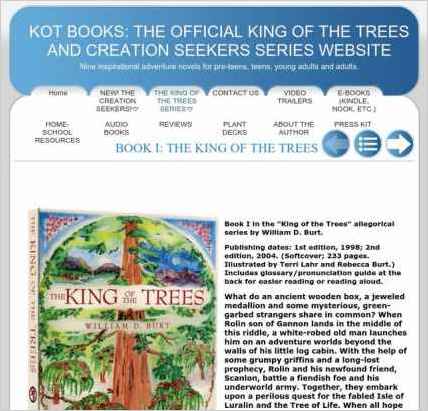 Describe your website.
The purpose of this website is to showcase the King of the Trees series along with upcoming titles in the Creation Seekers series by William D. Burt. A descriptive page is devoted to each of the seven titles in the King of the Trees series, which are available on the site in both print and e-book (.mobi and DRM-free .epub) versions:
Book I: The King of the Trees
Book II: Torsils in Time
Book III: The Golden Wood
Book IV: The Greenstones
Book V: The Downs
Book VI: Kyleah's Mirrors
Book VII: The Birthing Tree
The KOT Activity Book (for homeschoolers)
The website offers these titles (and other resources) for purchase via PayPal shopping carts at very reasonable prices. Orders are fulfilled and shipped the same or next business day, and all print products are autographed by the author.
In addition, Audible.com and Amazon.com links to series audio books are included on the site, along with video trailers, the Official 2015 KOT Wall Calendar, reviews, a multi-media page, information about the author, and a page dedicated to the author's father's popular edible/poisonous plant decks (identification guides) that are offered for sale nowhere else on the internet.
KOT Books is a company dedicated to the publication and promotion of novels and other print and audio resources by William D. Burt. These resources have been developed to offer readers of all ages wholesome, adventuresome and inspirational literature.
Who is the target audience for your website?
People often ask me for what age range I wrote these books. My answer is that I didn't write them for any particular age group, and as a result, virtually all ages of readers enjoy them, including pre-teens, teens, young adults and adults. I have even incorporated a glossary/pronunciation guide at the back of each title to make for easier reading and for reading aloud as a family activity.
This series is ideal for either boys or girls, especially for those who enjoy Christian allegorical adventures along the lines of "The Chronicles of Narnia." Homeschoolers particularly appreciate this series because of the read-aloud aids and the companion KOT Activity Book (which incorporates a study guide with answer key) that is available only on our website. These titles do not contain objectionable language or scenes.
What is the advantage of your website over others?
1) I offer my titles (in both print and electronic versions) more cheaply than elsewhere on the Web, and all print copies shipped are autographed by the author.
2) I ship more expeditiously than any other Web seller of my products.
3) My website book descriptions are more detailed than on other sites, and my graphics are of higher quality.
4) I offer more comprehensive PDF book excerpts on my site.
5) I offer products that are not available elsewhere on the internet, including my KOT calendars; my KOT Activity Book; and the "Edible and Poisonous Plants of the Western/Eastern States" identification guides.
Tell us a story about this website.
I did receive many compliments on my site when I first launched it. Since then, I have expanded and revised it considerably as my web-design skills have grown. The site also has enabled me to garner more e-mails from potential customers.
Why did you use this Sandvox design?
The truth is, I like the color blue and I prefer simplicity when it comes to design! :)
What techniques did you use to build this website?
I inserted HTML for the PayPal buttons, some animated gifs, book-cover images, e-mail subscription links, etc.
---
---
www.SandvoxSites.com/3096