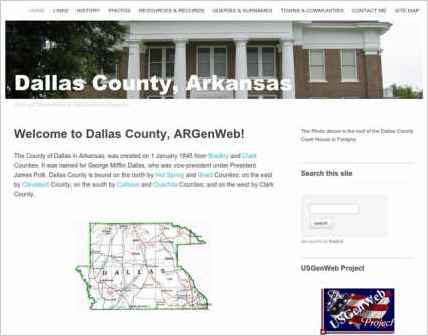 Jamila Barahona used Sandvox to build this website. She chose the "Hydrogen" design for the site. People may want to visit the site if they are looking for Genealogy, Family History.
Sandvox features used for this site:External Page, Photo Grid, Custom Collection Index, Site Map, Contact Form, Editing HTML of text, Raw HTML Object, Google Integration
Visit Dallas County Arkansas »
---
Describe your website.
The main purpose of the website is to provide a starting point for persons researching their family histories with roots in Dallas County, Arkansas. I provide some links to online records, as well as links to find records in person. I provide photos of the area and the history of the area. [This includes] information about towns & communities and available records & resources. Plus a way to contact me with any updates or corrections.
Who is the target audience for your website?
Anyone with a familiar connection to Dallas County, Arkansas should visit the site.
Why did you use this Sandvox design?
I chose the design because it felt like something Old World like. Since genealogy deals with the past, I wanted something that would represent that.
What techniques did you use to build this website?
I was able to link to lots of websites that all deal with my subject base.
---
---
www.SandvoxSites.com/3302